20th National Seminar 2019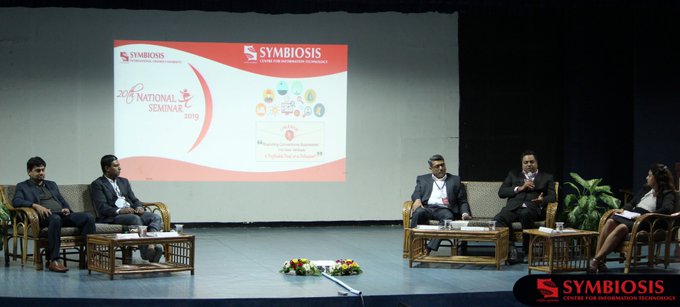 Symbiosis Centre for Information Technology hosted its 20th National Seminar on 21st September 2019. The topic of discussion was "Branching conventional business into new verticals A profitable deal or delusion?". Students and faculty members gathered together in the SIC Auditorium to hear from some of the eminent leaders who are the forefront of this frontier. The Chief Guest for the Seminar was Mr. Suvabrata Sinha, Director, Digital Security and Risk Engineering at Microsoft.
Dr. Dhanya Pramod, Director of SCIT, addressed the gathering after the traditional lamp lighting ceremony and gave insights on what to expect from the seminar.  Mr. Sinha in his address detailed the audience about the need for diversification in modern business and how the single greatest obstacle in the path of a diversifying business is the innovator's dilemma, which must be overcome in order to stay relevant in the everchanging business landscape. He implored the students to be open adopters of diversification and provided the audience with pertinent examples about many modern companies and how almost all of them are presently known for a specialty other than the business in which they started off.
The panelists then took to the stage to discuss about the intricacies of business diversification and how the modern firm is achieving the same. The moderator; Ms. Lincy Therattil, Open Innovation Head, Barclays, introduced the audience to the topic of discussion and set the stage for further discussion on the topic at hand. Mr. Vipul Gosalia, an Independent Consultant addressed the question of disruptions with a special focus on the banking and finance point of view highlighting the revolutions blockchain is bringing into the industry.
Mr. Subarna Pal, Digital Transformation Lead at Tata Motors provided his viewpoint on automation and how far it has come in the automotive industry. He also took the time to speak about the retention of business and how that is a core aspect of modern business. Carrying the discussion forward, Mr. S.F. Hussaini, Vice President, JP Morgan Chase and Co emphasized on the multitude of disruptions taking place in the financial sector and its immense impact in shaping the businesses of tomorrow. Mr. Vartul Mittal, Digital Transformation and Innovation Leader, Barclays, provided clarity on the role of technology in every segment of every sector in business.
At the end of the panel discussion, the students participated in an active Q&A session with the panelists. Thought-provoking and pertinent questions on the diversification of businesses and their profitability were raised by the students which was well appreciated and answered by the esteemed dignitaries on stage.
Professor Apoorva Kulkarni, thanked the Chief Guest, Dignitaries, students and faculty members for their active participation in the 20th National Seminar 2019 and making it a grand success.