Amitabh Bachchan @ Symbiosis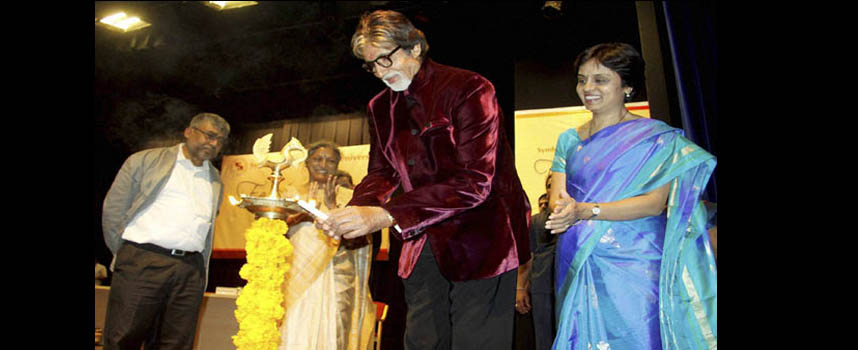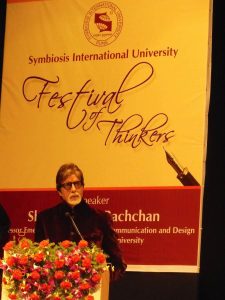 It was a pleasure to hear Mr.Amitabh Bachchan Prof.Emeritus Symbiosis International University, the veteran Bollywood actor who needs no introduction.
Mr.Amitabh Bachchan addressed the Symbiosis students and it was certainly a motivational and inspiring speech.
He  shared a story: It seems that while he was in schooling, he was interested in dramatics . During one of the academic years he also won a cup called "Kendle cup" for dramatics in his school. This was one of the prestigious awards. In the next academic year he was all set to participate in dramatics and had practiced very hard  for it. All participants thought it would be him, who would certainly bag the "Kendle cup" for dramatics for the second time.  Unfortunately he was affected with measles and school did not allow to perform . He was heart broken. He was admitted in the hospital and his dad came . When he saw Mr.Amitab bachchan heart broken he advised him the following- "Mann ka ho tho achaa aur Mann ka na ho tho zyada achaa" Which meant " If some thing happens as per out wish it is good and some things does not happen as per our wish then it is still better!"
Mr. Amitabh was confused and asked his dad on how could it be so!! and his dad gave him an explanation that, if things does not happen as per our wish then it is still good as  it happens as per Gods wish !!.
The entire crowd cheered and clapped on hearing this statement.
Mr.Bachchan also shared another instance  from his life- It seems that some times, after a real tough day, he used to go back to his dad and tell him in Hindi  "Jeevan mei sangarsh hai, aur  sangarsh hee sangarsh se bara hai " and his dad used to tell him " Jab tak jeevan hai… tab tak sangarsh hai" which made him understand the reality of life!
Some quotable quotes from his speech is given below
"Democracy must be great up-lifter and not just leveler"
"Good education is the most valuable thing a human can possess"
"Money comes and goes but education can never be taken away, once u possess it"
"Academic achievement is not enough – Knowledge is learning what to do and becomes more valuable when shared and must be  shared  through all means"
"Struggle everyday to succeed"
"We need to look at ourselves to discipline ourselves"
" We must change so that, our community will change, so that our country will change."
"Humans will perish but not their words, particularly the words that are written and read"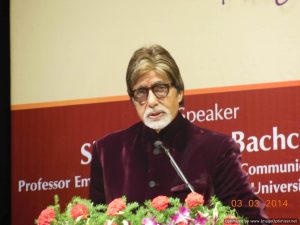 It was an excellent speech by Mr.Bachchan and all students enjoyed seeing and hearing him at the Symbiosis campus.
Dr Raman
Director- SCIT and Dean – FoCS – SIU