Tree Plantation Activity at Aundh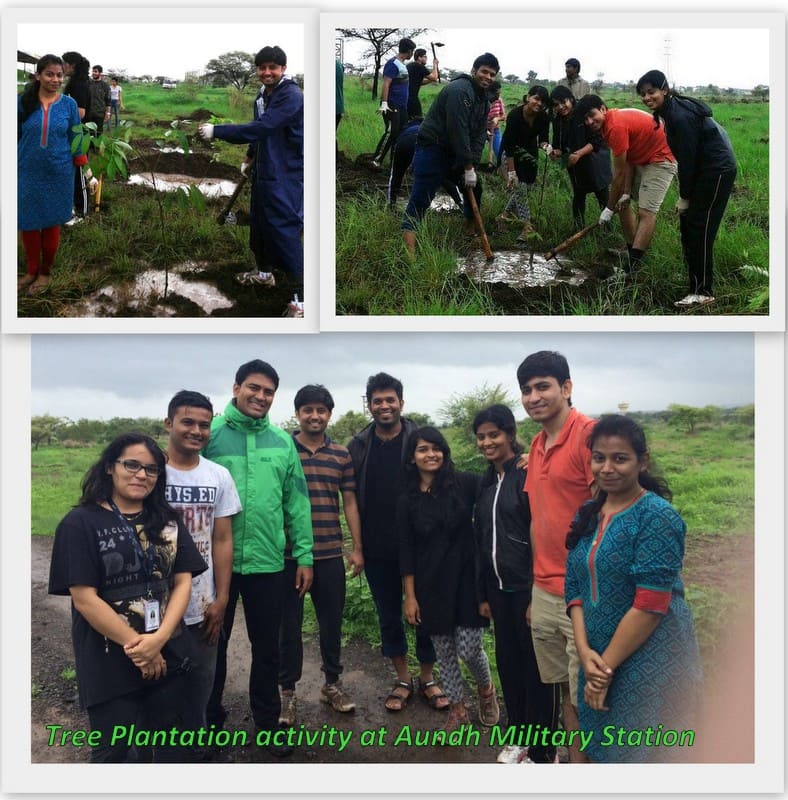 "The Greatest Threat to Our Planet Is the Belief That Someone Else Will Save It"
-Robert Swan
We're all aware of the need to save our planet, to protect and conserve nature, but until each one of us takes a step towards it, our duty still remains incomplete. On 10th July 2016, the Tree Public Foundation organized a tree planting volunteering activity at Aundh Military Station premises at Rakshak Chowk and 8 volunteers from SCIT ISR took part in the same along with students from other colleges. The activity was a part of the afforestation campaign by Tree Public Foundation which aims at planting nearly 5000 trees in Pune this year.
We reached the premises at 10am and the activity started with a brief introduction about the campaign by Mr. Abhishek Kawitkar, who is the founder-director at Tree Public. Further, he showed us the correct procedure to plant trees in order to ensure that they have sufficient space and support to grow well. Later we split up into teams of 2, carried the plants to the pits and started planting. The ground was moist and sticky due to the rain that had been pouring in the previous days, this made things a little difficult for us but didn't stop us. First, we placed the plants in the pits that were previously made, and started filling the pits up with soil so that the plants had proper support to remain upright. With each tree that we planted, we felt a sense of accomplishment. The joy of getting your hands and feet dirty in the soil and working towards planting as many trees as possible was incredible. Monsoon is the perfect time for planting trees because the soil is perfect for their growth. We weren't bothered about our clothes or shoes getting dirty, we were glad that we managed to complete the task we had come for. In two hours, the 8 of us were successful in planting 16 trees.
This was indeed a refreshing experience for us and we were indeed glad that we decided to volunteer for this event, after all the joy that you get when you see the plants you planted is worth the hard work you have to put in.