The Alarm is Ringing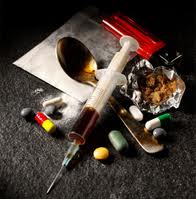 The alarm is ringing as its high time to take a stand against drug addiction. The rate at which use of drugs is increasing it will become THE PROBLEM. Reflecting upon the case of teens vandalizing and setting 13 parked vehicles on fire shocked the Ahmedabad city. Most of these boys regularly got high on drugs like charas and ganja.
Welcome to the world of drug abuse, which is getting younger in the city. Many schools and colleges have drug peddlers in their vicinity, on the prowl for fresh addicts. Popular hangouts for school and colleges students such as snack parlours and coffee bars are turning into so called 'addas' for running these business.
As always said, its better safe than sorry. The youngsters are the future of our nation and hence, the nation's future is at stake. Taking one wrong step and we shall put ourselves in a pit. A flash of thought in my mind that turned into dreadful chain. The reason being the rate of drug addiction events taking place. Not to forget its not only cities being polluted by this disease but small towns as well. The consequences of this fatal disease are already being seen.
I feel blaming the teenagers or drug addicts solely is not correct. The society that is changing to another level where children are pampered by financially overwhelmed parents. However, I personally feel if right amount of restrictions are implemented or other ways like personal interactions at parent level is increased this further devastation can be averted.
The day is not far when these behind the door exchanges shall come in front. Lack of parent guidance and in a race of becoming the so called 'cool dude' avatar shall ruin the future of our nation if steps are not taken well in advance.
The alarm is ringing. To wake up or to stay asleep is your choice.
RISHI MALHOTRA
MBA(ITBM) SCIT 2013-2015