Thalassemia Awareness: The Need of the Hour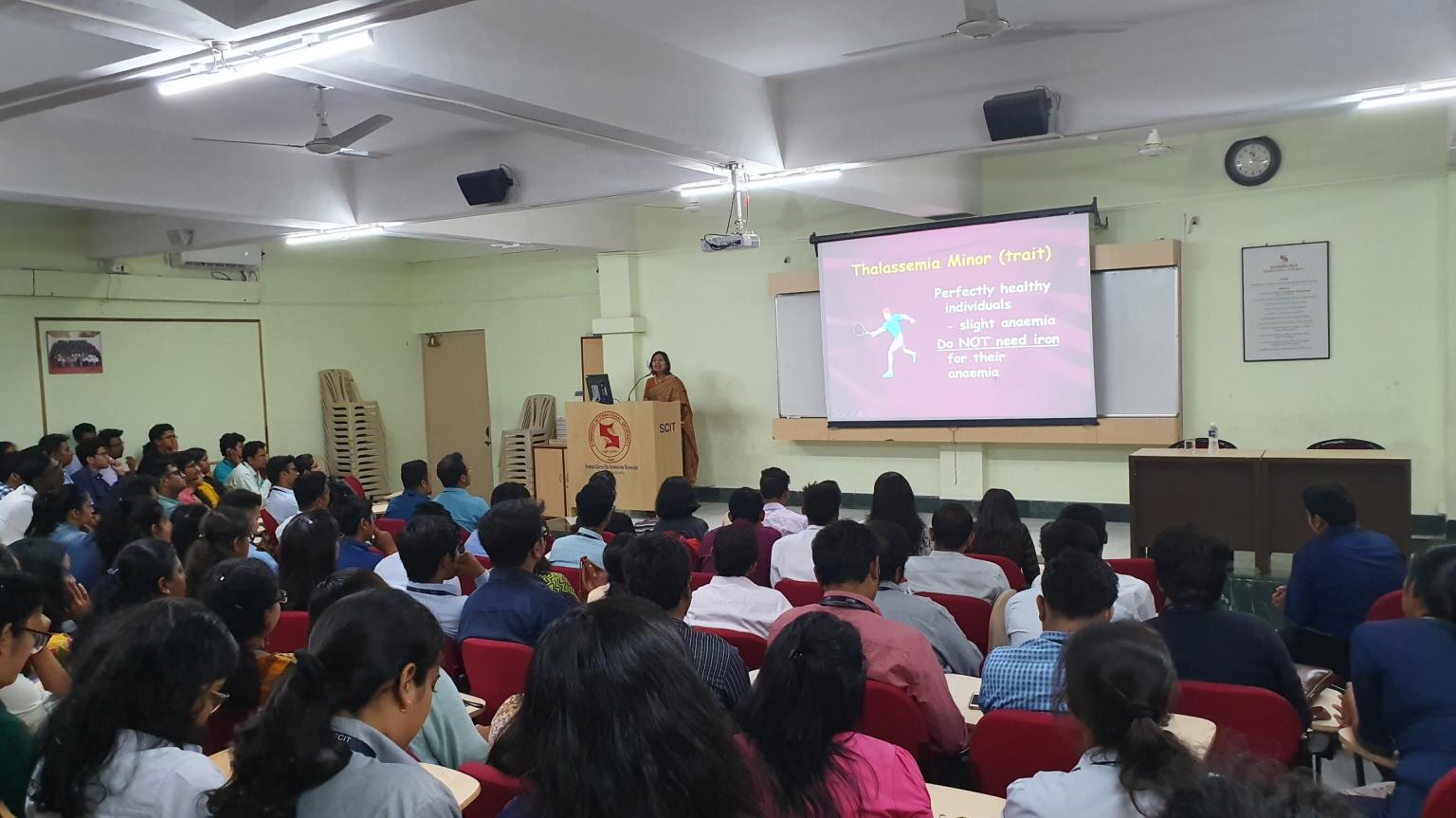 Thalassemia is a genetic blood disorder that causes an individual's body to create an abnormal form or an inadequate amount of haemoglobin, which directly results in the destruction of a large number of red blood cells in the body, thus the individual develops anaemia. In order to address the need for awareness on this subject matter, Dr. Nita Munshi, Director of the Department of Laboratories at Ruby Hall Clinic group of Hospitals, President of Thalassemia Society, Pune conducted a Thalassemia awareness session at SCIT on November 30, 2019.
Dr. Nita, who has devoted her career towards helping and treating patients of thalassemia, explained in detail about the actual causes of thalassemia, what it does to one's body, the treatments that are currently in practice for this disease and the intense pain and inconvenience and patients and their families have to go through.
This entire ordeal is financially draining on the families involved, as the patients require monthly or weekly blood transfusions in order to ensure that the individuals can continue with their lives. The primary concern, which we as a society must address, is the spreading of the awareness about thalassemia, its effects and demystifying the plethora of misconceptions that surround thalassemia.
Dr. Nita was quick to tell us about the two common types of thalassemia and how; children from their parents inherit it. She urged us, as individuals, to go out and spread the information we had been given about thalassemia amongst our friends, family and loved ones, to ensure that we become more aware as a population.
Ms. Priya Vaswani, a member of the society and a thalassemia patient spoke at length about the struggles she faced while growing up, including how she let nothing stand in her way of achieving her goals. She served as a great source of inspiration of us all by telling us how we must never let anything stand in our way and how we must learn to cultivate a winning mentality by using all of the support systems available to us, granting the ability through life with a sunny disposition.
Dr. Nita Munshi on behalf of the Thalassemia Society, Pune urged us to be active participants in achieving their mission of no thalassemia births by 2020 and called on us to help see this through on all accounts by acting as agents of thalassemia awareness and ensuring this message receives wide reach.
The session served to drive home the importance of knowing one's health and above all; enabled us to gain a clear understanding of the condition of thalassemia.