Surya Shibir – A Fantastic Experience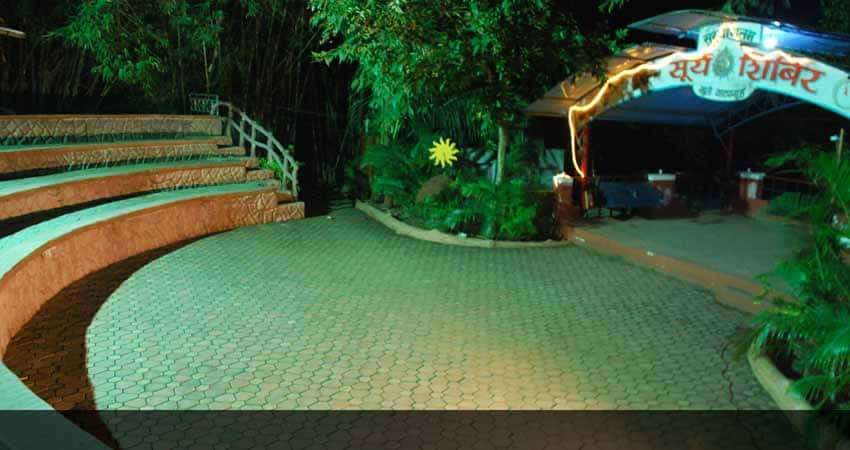 Surya shibir- gathered an wonderful experience visiting surya sibir. Not just a trip but awesome management activities as well.
Our first day started a early, we left our campus approx 
7:30 am
 and just after the first hour of our journey i was mesmerised by the scenic beauties and the most i liked was a lake where many people were swimming and enjoying with their families . So we reached nearly 
10 am
  at our destination. Once we reached the out-fit(team that manages surya shibir) welcomed us and alloted rooms to boys and girls. Then they told us to settle down and put on our sports gear and come for breakfast.
Then we all had a south indian breakfast and assemled in kala manch where the girls and boys were divided into teams. Half of the teams went for trekking and the other half went for different fun activities. I went for activities and we named our team vikings and then by activities we interacted with each other and made friends from different states. All the activities were made in a manner that we could interact with each other and learn other things like team work, leadership skills etc. At night all the teams performed some entertaining things like skit,dance etc. So overall we had a great first day and had a lot of fun.
So on second day we assembled in kala manch 
at 7am
 after having breakfast then from there we went for trekking a 5km steep slope walk which was a bitdifficult for me but the scenic beauty from the hill was amazing and we passed from mango fields where i ate a mango which was very sweet and i loved it then after reaching the top of the hill we ate some wild berries and climbed trees there for jamuns. Then we sat there for sometime and enjoyed the view, took some pics and then came down back to surya shibir and had our lunch. After lunch there were again some activities where we made banner and took interviews of one another in groups. After all that they called the day and we packed our bags to come back to our hostels.
So overall it was a great experience for me where i made several friends and made several memories. After coming from there now i feel like i am in A Home Away From Home.