SCITians SCOUTING FOR GOALS!!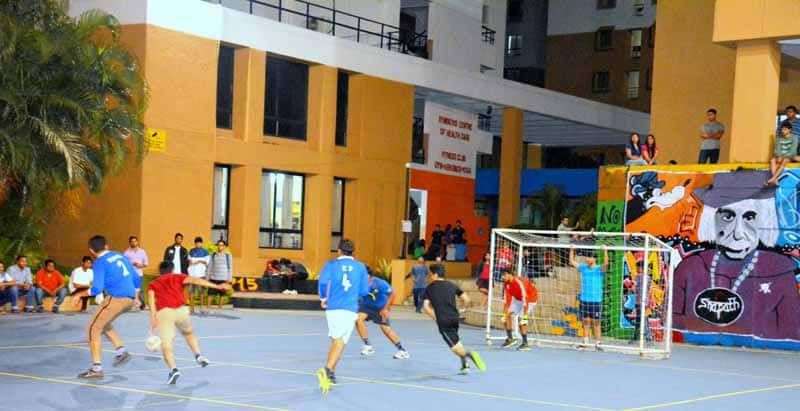 "Jeetega Bhai Jeetaga 15-17 Jeetaga!! " was the only chant heard around the sports arena as the game of cricket came towards the end and the football fever of day 2 at the independence cup was about to begin.
Teams were seen practicing hard before the start of the match as the gathering present in the arena came out of the cricket fever and started cheering the football players.
Both the teams were looking equally focused before the start of the play and were seen making last minute strategies before the first whistle was blown by the referee.
After an exciting first day of football show, the second day started on a very low node as a player from the junior team got an elbow injury right before the start of the match in the practice session.
The first match of the day 2 schedule which was played between the A division seniors and B division juniors, turned out to be another bad outing for the newbies of the college as they were comprehensively defeated by their senior counterparts in a 2-0 whitewash.
The senior team had their first success in the opening half of the game as the winger scored a wonderful goal after they won the toss earlier in the day. The second goal was a result of a big mistake from a junior defender who accidently gave a handball inside the penalty area, which gave another chance to the seniors to score a goal with the help of a penalty kick. Two other junior team members were also injured during the second half of the match.
After the end of the allotted time the senior team came out as the better team of the day and took the honors. The second game of the evening, which was between A division Juniors and B division Seniors turned out to be another easy game for the seniors.
The talk of the house was about a senior who hails from Japan and has exceptional football skills, and he didn't disappoint as he scored the opening goal of the match after missing out on two occasions.
After scoring the first goal he just didn't stop as he dribbled around beautifully and took the ball through three junior defenders in a row, to assist his teammate to score another beautiful goal which also happened to be the final goal of the day as after the end of allotted time the senior team recapped the previous score of a 2-0 whitewash over the junior team.
Well, after a day of joy for the seniors, the juniors would definitely like to spoil their party with some good performances on the third day of this already exciting independence cup. Waiting to see how things unfold on day three.