Quit Smoking!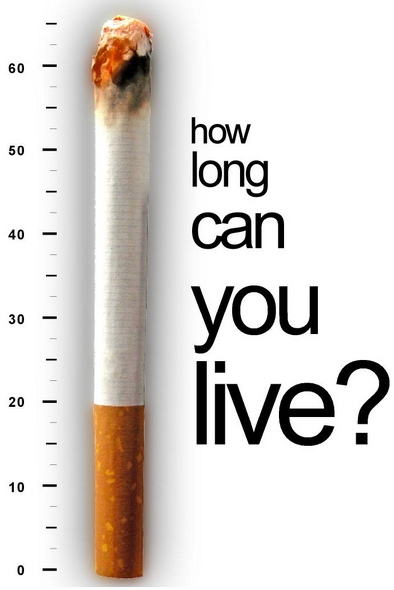 "Cigarette Smoking is injurious to health"  Heard that a lot of times right? Does that really stop people? What prevents them from so?
There is a curiosity and excitement in today's youth to venture into new things.They all want to know what exactly this small thing offers, which makes many of their friends go crazy about it! They try it once to explore. Next time they do it because of peer pressure or show off! And then after a point of time, it becomes a habit – something which they can't live without.  "My Boss irritates me, I fought with my gf/bf , I got rejected in an interview, need to keep myself awake to study for tomorrow's exam, I am happy today". All this end up with a puff. Smoking helps release tension and sometimes  it even becomes a way to celebrate! Habit is stronger than reason.
When a cigarette is burned and inhaled, a drug is released into the body which is called nicotine. It is a stimulant drug which induces temporary improvements in either mental or physical functions or both. These effects may include enhanced alertness, wakefulness, and locomotion.And that's the reason people get addicted.
The intake of this drug stops your body growth and results in causing various diseases. Smoking results in causing ulcer, stroke, mouth and throat cancer, larynx cancer, various heart diseases, pulmonary disease, bladder and cervical cancer. Quitting this bad habit reduces the risks for diseases.Smoking harms nearly every organ in the body. Adverse effects of smoking to health usually appear in a long time, over 5 years.
The ones who smoke are also aware of all these facts.So u see the power of Addiction!
If peer pressure would be one of the reasons to start,It can be reason to quit as well.So next we see our friend smoking. A free advice might help. ;-)Self realization and  Self control also play a crucial role.
I personally feel Good and sound health is the fourth basic need of living.So Life is not be taken for granted!
We are really temporary here.Don't make your trip even shorter.
Help yourself , Help others! 😀
Quit Smoking.
Shreya Prabhu  | SCIT MBA- ITBM 2013-15