Outbound programme, the roller coaster ride begins!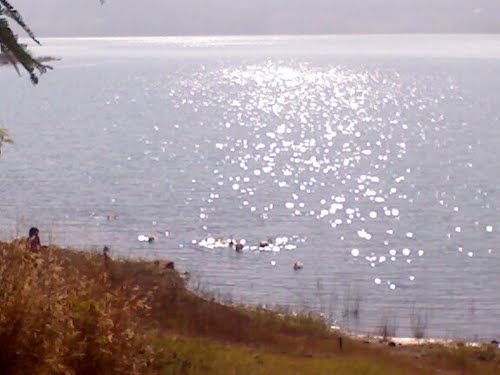 The best way to hammer hostility is by out bonding and our college has organized one such out bonding trip to "Suryashibir", a resort in nature's lap in Panshet. It was a two days, one night trip which we started on 5th June 2016. Enthusiastic strangers, with eyes glittering with happiness after joining SCIT, were waiting at the college gate at 6 in the morning for buses to arrive. Everyone was on time, as value of time was taught on the very first day. J  Around 200 students were there and they were divided in to 4 groups. Four buses arrived and each one of us boarded the respective bus. In few minutes after boarding the bus, people started breaking the ice and started playing antakshiri, dumsharaz etc. Some newbies were coy at first but within thirty minutes, everyone was drenched into grand masti.
In around 2 hours we reached our destination of scenic beauty. Outskirts team, mainly a team of retired army men who organizes teambuilding activities there, welcomed us warmly and we were headed to our dormitories. In some time after having breakfast, everyone assembled at auditorium of Surya Shibir. We were then divided in to two groups. One group was headed for trekking and the other stayed in the resort for team building games.
Mine was the group which headed for trekking. It was a picturesque landscape and everyone started capturing beauty, creating memories. It was around 5 kms of round trip track.  Started with energies brimming the head, we were enjoying nature which was at its best that day. When reached half way, scene changed, half were almost dead and water had become life drink for fellow students and those carrying water in the water bottle became life saviors. 😀 It was totally a new experience for baby climbers who were new to trekking. We helped each other and became team players on trek and later realized it. We got the feeling of accomplishment reaching at the top. Blue berries, cold breeze, water, small talks, group photographs and beauty of nature we all were enjoying.
Down track started in half an hour and everyone gathering all the energy back, slipping, balancing, sliding and again managing through rocks and grasses, helping out each other. Students having small talks became chatter boxes by that time. Reaching the ground we had our delicious cuisine and went for "Ice breaking session" organized by Mr Lal Singh again. We were divided into group of three people and asked to know things about each other like achievements, short term-long term plans, hobbies etc. This was to know about each other in a better approached way.
In the evening we were asked to showcase our talent in the form of singing, dancing, skit etc. Everyone had a whale of time that evening.
Next morning we woke up by rhythmical chirping. We then started with activities like Burma bridge crossing, zip line, sheep and the shepherd team game, crossing coal mines with planks and ropes' team game. The purpose of all these games was to unite us to win over situations using holistic approach and to complete them within given time. Also these games helped us to introspect ourselves.  We all realized where we need to improve ourselves and this is what MBA is all about, facing challenges, dealing with them under pressure, keeping right attitude and taking right decision at the right time. The whole day we learned through such games and in the evening, our last task was to design posters using our creativity for Symbiosis International University to represent SIU at international level.
The out bonding trip was a great success that brought us all closer where we got to know our good small world for 2 years!J
O, wonder!
How many goodly creatures are there here!
How beauteous mankind is! O brave new world,
That has such people in't!
-Shakespeare
With these lines, I feel each other's differences, opinions and suggestions will help us in achieving a greater goal together. We all are thankful to the outskirts staff, their services and warm hospitality. We are going to cherish this trip's moments for life.