Journey of MBA at Symbiosis center of Information Technology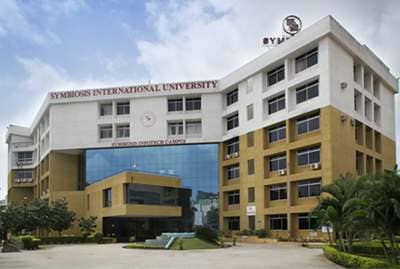 The journey of MBA at Symbiosis center of Information Technology started with an induction ceremony followed by an amazing outbound programme. SCIT arranged two day outbound programme for us just at the start of the academic year. It was a well planned programme in which they took us to a place called surya shibir in pune.
On 7th june,2015  we gathered at the main gate of our college.All students were busy taking selfies and chit chatting with each other. Faculties came and they divided us in four groups according to our divisions and took attendance. Thereafter we left for our outbound program at 6.30. We noticed our classmates for the first time when we got into the bus. We started playing "Antakshari". We divided the people in two groups. Both the teams were teasing each other. Some students were singing with full enthusiasm and some were sleeping. It was a nice feeling to play "Antakshari" with new people with whom we are going to pass our two years. After sometime we started playing DumbShereus and we played it only for some time as we reached at our place "Suryashibir" in an hour.
The place was in a hilly area. We were allotted rooms. Some students had dormitories type rooms where fifteen to twenty people were there and some are lucky like me who stayed in three sitter room. Then we took our breakfast. After that they divided us in eight groups starting from A to H. This way there were around fifteen to twenty people in one group and we need to stay together for the whole programme.
Outbound team had planned the two day programme very nicely. We did some warm up exercise and started  our trekking.We needed to walk five kms up and five kms down on the hilly area. All were very tired but the outbound team members were continuously motivating us to go ahead. After some time we reached at the top. Weather was also cool so we liked it a lot. We sat there for some time and some students started singing songs and our sir also joined them. Then we came down after some time, went to the resort and had our lunch.  After the lunch we had ice braking activity in which we were divided into groups of three and we need to take each other's interviews and then we need to present it to the students. It was a very interactive session. We met new people and came to know about them. At evening, we had a chill out session in which each group had to present some group performance within ten minutes. All the groups presented their talent very nicely. In our group, three were good singers so they prepared a song. One girl presented a solo dance and others presented a skit. We had so much fun that evening. Session ended at ten.
Next day, We woke up at five and went for other activities. Again we were divided into groups and we played some warm up games. We had so much fun in those games as we need to communicate well with our group members and we need to make some strategies with our group members if we want to win the game. After that we had our breakfast and then again we went for other games which were bit tough and we need use our mind in each games. In afternoon we did valley crossing and rope walking there. After the lunch, there was a banner making competition in which were supposed to sit with new people in the group and we need to make a banner for Symbiosis International University. We made a very nice banner of SIU containing a logo, slogan and other facilities of the university. They put our banners in a line and any one or two members from each group had to give two minute presentation of the banner to others. After that we left the place around six and came back to our college at eight.
Overall it was a very nice experience. We went there for two days with new people but we came closer to each others by these activities. We learnt many new things related to team building. They taught us useful lessons after each and every activity. While coming back we felt like we were living with these people since long time who were strangers before two days. Thus it was a learning with fun and all the credit goes to Symbiosis International University.