ISACA Knowledge Session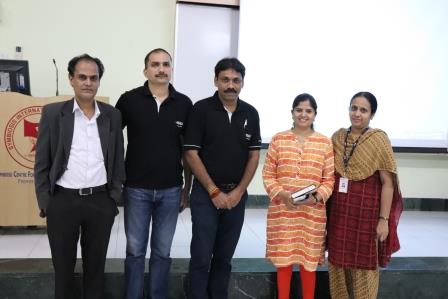 ISACA Student Group of SCIT organised a Knowledge session on 4th August, 2018. Mr. Pushkar Dhole, Mr. Aannaaand Deshpande, Mr. Prasad Wadwekar and Mr. Praveen from ISACA Pune Chapter had gathered to address the crowd. The senior batch of ISACA Student Group introduced the speakers to the students and gave a brief explanation on what to expect from the session.
Mr. Pushkar Dhole started the session with a beautiful example of how dangerous it was to share an individual's name and phone number in this changing world. He explained as to how important a person's identity was and how it is getting misused by certain people to gain access to private information. He then went on to highlight about what ISACA does and what it offers to its members. He spoke about IT Audit and Assurance, IT Security, Risk and Compliance and Government professionals who work closely with ISACA to share the knowledge they have gained by working in their respective industries.
Mr. Dhole highlighted about the certifications offered by ISACA: CISA, CISM, CRISC and CGEIT. He said that it was not necessary to possess an IT background to do these certifications but a desire to learn would be the driving factor to do these. He mentioned how auditors today are looking at both the application and business logic while performing audits at companies. He also explained about the COBIT framework which was developed by ISACA to maintain a standard across the world. He spoke about the thin line of difference between CISA and CISM and how Risk Management has become the "ask" and "need" of the industry today.
The next speaker was Mr.Deshapande who spoke about the growing need for data classification. He highlighted as to how data had become the crux of any and every industry today and why it was essential to classify the same to grow business. He explained how security cannot be implemented at each and every corner in a premise as it would in turn make the whole process costly for the company and this simple need has given rise to the growing importance of classifying data to put it to better use. The importance of Information Governance lifecycle was highlighted to make the audience understand how the top management needs to decide what data should be classified in which manner and also to calculate the retention period of the same.
The takeaway from the session was the importance of being a student no matter how old we grow. This way the spirit of learning would still be alive in every person and this would enable them to explore unexplored paths and keep themselves updated with the various trends in the industry.