Integrity and Ethics Conclave 2021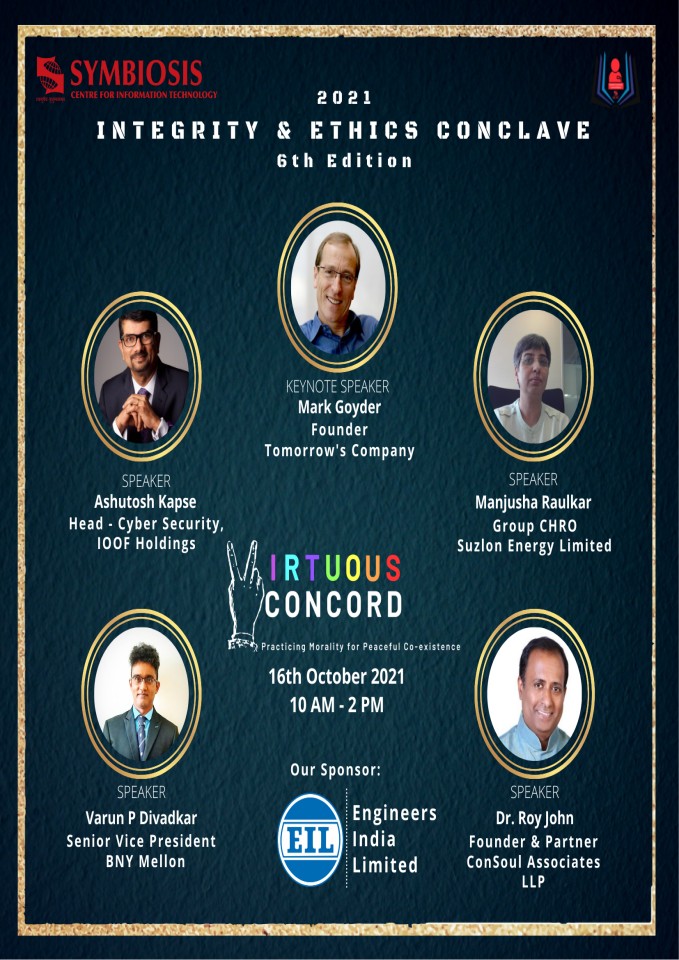 Integrity and Ethics are considered the two pillars of business without which any company is bound to collapse. Doing a business ethically and with uttermost honesty has been the highlight of the last decade. On 16th October 2021, the Guest Lecture Committee brought us the 6th edition of Integrity and Ethics Conclave. The theme this year was Virtuous Concord: Practicing Morality for Peaceful Co-existence. The broader idea was 'Virtuous'- proper use of resources and creating a world of 'Concord'-coevality among all the stakeholders.

The event began with our director Dr. Dhanya Pramod extending a warm welcome to all the event speakers as she talked about how personal values can drive the business to different heights. Mr. Mark Goyder spoke about value creation in a company. He asked everyone to reflect upon what value they added today, yesterday, the day before yesterday in their lives. He further put forward that value addition has three perspectives: Social, Individual, and Company perspectives. Mr. Ashutosh Kapse coined the idea of the Phygital world and questioned if Customer was the forgotten King in that world. He further talked about how essential it is to provide an enhanced customer experience by doing the right thing and keeping them in mind over making profits. Team Eklavya's performance beautifully conveyed how business ethics have changed from the 1900s to the 21st century.

Ms. Manjusha Raulkar mentioned Veritable Operations, where she defined corporate governance as the system of rules, practices, and processes through which a company is directed and controlled. Further, she explained how corporate governance is all about doing the right thing. Wherever one sits in the hierarchy, be it in the organization or life, the creation of sustainable living is of uttermost importance. Mr. Varun Divadkar emphasized Responsible Automation. He explained how automation had entered various sectors such as healthcare, education, manufacturing, and finances. He even expressed that humans need to remember that automation is for us and not the other way round. Dr. Roy John talked about Probity for Comity, where he explained how corporate dishonesty affects the organization and people in society. Later he explained how the losses due to fraud are much ahead of that of an emerging economy. The event came to an end with the spectacular performance by Beyond the myth studio.