InnovInk Foundation and InnovInk Awards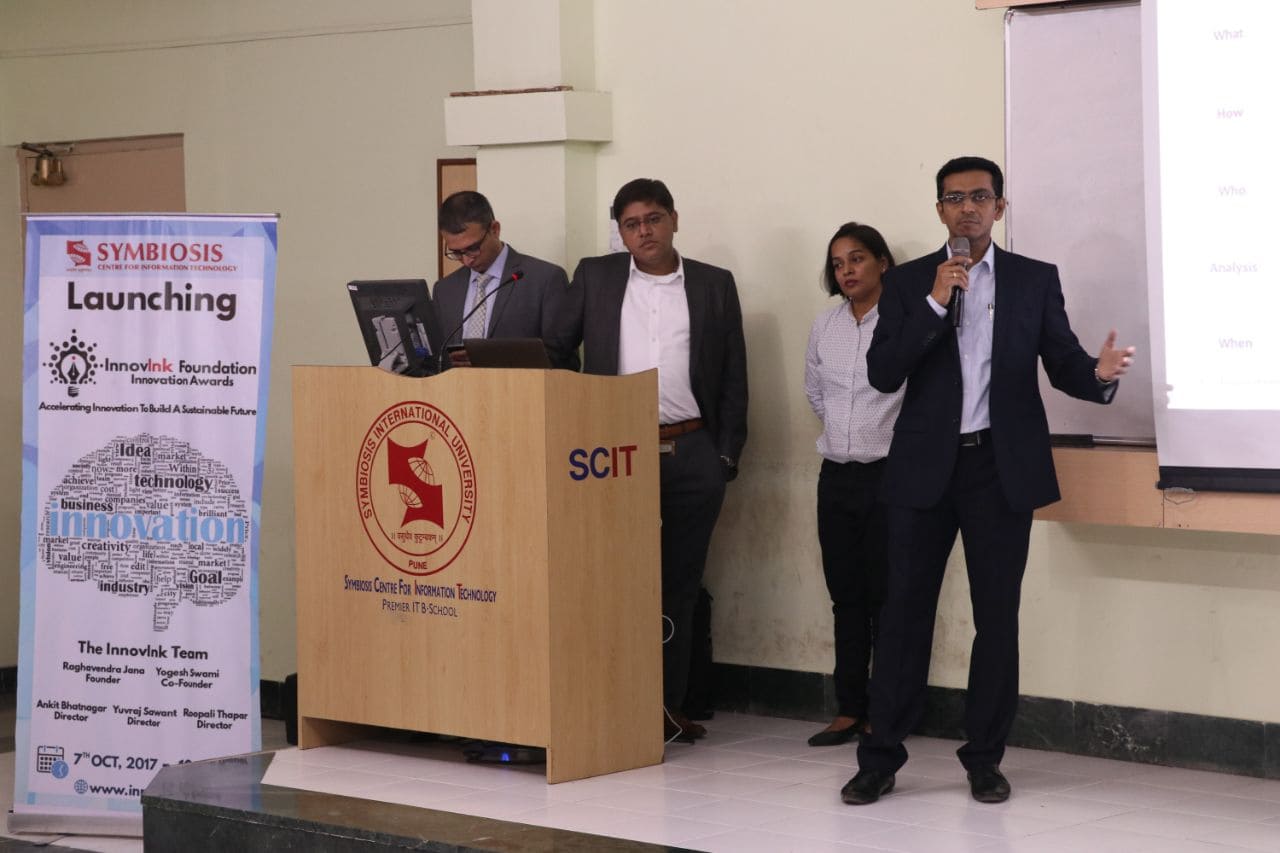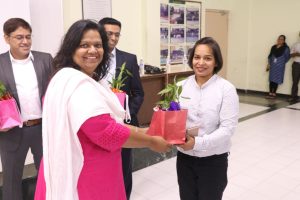 SCIT and InnovInk Foundation launched InnovInk Innovation Awards on 7th October, 2017. InnovInk Foundation is a non-profit organization founded by SCIT Alumni (Class of 2004). InnovInk Awards are research and innovation oriented awards for students who present their game changing ideas, solutions to customer centric problems and develop innovative business concepts.
The session started with an introduction and welcome speech by Dr. Dhanya Pramod, Director, SCIT. She welcomed the alumni back to the campus and motivated students to participate in entrepreneurial adventure. She urged everyone to come out of the typical Indian thought process of the "Fear of Failure" – a mindset that holds and stops us from innovating and accepting the bigger challenges.
After the welcome speech, Mr. Raghavendra Jana (Founder) started his session on Strategy and Business Transformation. He spoke about key business strategies and how innovative ideas lead to constructive and successful business models.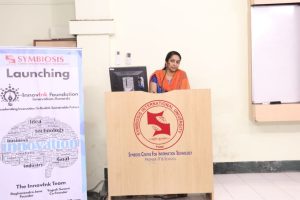 He also mentioned that organizations can transform themselves only after resolving internal politics, when ready to accept new ideas and should be ready to accept failures and changing business processes. And also talked about the importance of Strategy, People, Process and Technology all levers working together to achieve and surpass the Executive and Business KPIs.
After Business Strategy session, a recorded video about Cloud Computing by Mr. Yuvraj Sawant (Director) was aired.
Mr. Ankit Bhatnagar (Director) gave a lecture on CRM and how it is leveraged by business strategy. He spoke about how businesses today are customer centric and are based on customer feedback. He also presented thoughts on customer centric approach and importance for an end to end solution to their problems.
Mr. Yogesh Swami (Co-Founder) delivered a fantastic lecture on Design Thinking and Digital Transformation. He showed us thought provoking videos on existing and changing business models and showed the importance of Digital Transformation, citing examples like that of Airbnb. He told students to come up with new ideas that will not only transform customer experience but look at things differently. Innovative design thinking will h
elp organizations to sustain over the generations. Innovation is not only limited to products and services, but also business processes and models.
Ms. Roopali Thapar (Director) delivered a session on Business Process Innovation and use of SNAP for estimation issues. She stressed on importance of non-functional requirements and emphasized on innovating business processes as a value addition to customers.
All the sessions presented by the alumni focused on the What, How, Who, When and Where aspects of the business that can be implemented not only in established businesses but also in new startups. The approach presented by SCIT Alumni can be used while brainstorming the ideas to apply for Innovation Awards. Strategy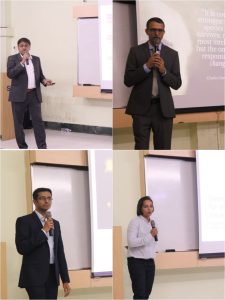 , Organizational Structure, Customer Experience, Service Quality and Costing Methodology are some of the key takeaways that will help the students to add a new dimension to their thought process.
The event ended with Call for Papers, an invitation to the students to apply for Innovation Awards. The alumni also encouraged the students to join them in the interesting journey ahead.
For more details about InnovInk Foundation and Innovation Awards, please visit www.innovink.org