Inflation – A gift by UPA Government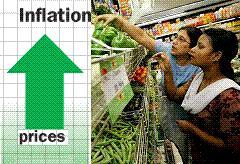 Inflation,in simple terms,is the rise in the average price of goods and services in an economy.
India is a country with a mixed economy model that comprises both capitalism and socialism, hence the challenges faced are vital for its growth model. The recent rise in inflation has been found to consist of several political and economic crises under the prime ministry of Dr Manmohan Singh.
In India, the wholesale price index (WPI) is the main measure of inflation. The WPI measures the price of a representative basket of wholesale goods.The inflation rate was recorded at 4.70 percent in May of 2013.
The Indian population has been badly impacted by the poison of inflation.There is no way out to solve this issue. The GDP growth has been decreasing since almost a year. Prices of cereals.eatables and other necessities are at a all time high. The prices of petrol and LPG are the best examples of inflation. The current trend clearly depicts that the inflation will continue to rise and adversely affect the Indian population in years to come.
Aadya Aditi
(MBA-ITBM 2013-15)