How RPA transforming HR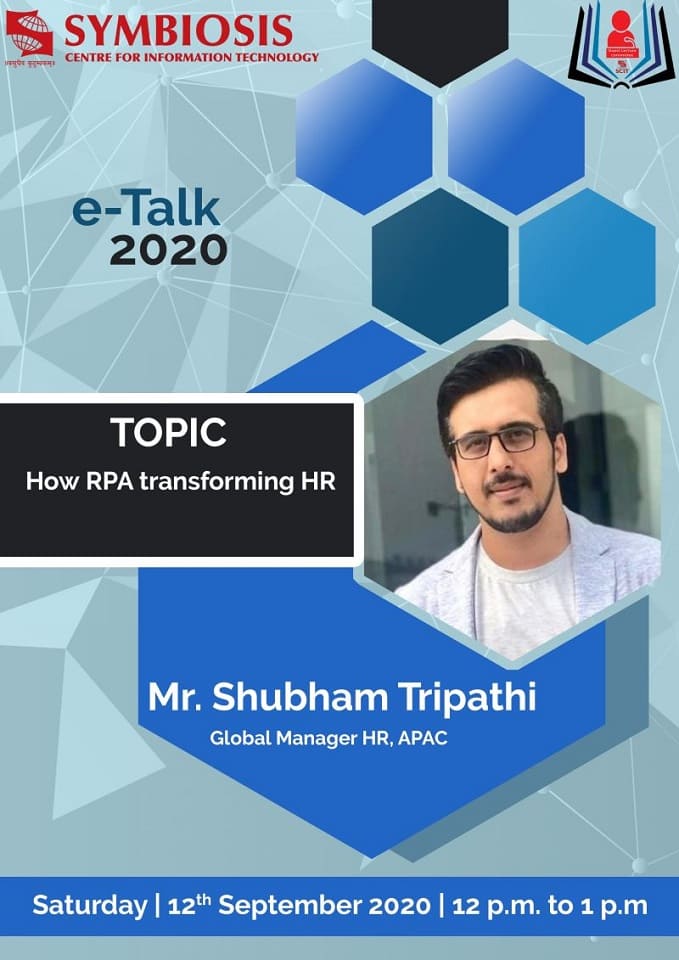 In today's time, undivided attention is given upon robotic process automation and its impact on the Human Resources department. To help students to have some knowledge in this field, Mr. Shubham Tripathi, the lead HR for India and APAC region at Mazars who has over 12 years of experience in the HR domain across various areas like Research Development, Employee Relations, Administration, and Client Management, addressed the students. He also holds expertise in areas like HR cycle transformation, HR bots, RPA implementations, HR tools implementations, and transformation of hiring via various tools. Mr. Tripathi has been awarded umpteen times for his astounding work in the HR domain. The entire session was very helpful as Mr. Tripathi expertly explained how productive is robotic automation in real life.
He went on to explain the extent to which this technology will be beneficial for the entire organization specifically for HR and how it can be implemented to audit, compliance, insurance, contract management, invoicing, and analytics. The reasons for the implementation are due to its ability to save time i.e. how fast an intelligent bot would take to complete a task in an organization. The second reason is due to security, now since everything revolves around data and organization has to be extra careful and confine it within the organization. The third is due to human error, as with the bots we can achieve our goals with no error. Next is to increase productivity and how it will reduce the costs significantly. So, with this technology, the need for manpower will reduce since the bot would handle it and make humans more productive.
Mr. Tripathi went ahead and showed some videos depicting the activities of how different are the functionalities between the attended and unattended bots. He highlighted the working strategy of an HR and a bot and showcased striking differences between them. He showed how sourcing is carried out in LinkedIn by a bot and how it would make the process smooth. He emphasized the importance of updating the social media handles as more the content more is the reachability. The bot will be able to read, deliver, and modulate hundreds of formats and convert them to their format in seconds.
With the advancement of automation in the hiring process, he explained how drastically it has changed. The parameters to assess the candidates are behavior, physiological fitment, mind towards the job, subject matter expert. He backed the data with some statistics that how by end of 2021 almost all companies will be imbibing this technology.
He so delightfully and patiently answered questions from the students and on a parting note, he urged all the budding HRs to learn, to evolve, and to partake in honing new skills i.e. keep up with current needs. He also urged students to keep exploring and come up with some innovative technological solutions.