"Ganpati Bappa Morya" ….. And here comes LORD GANESHA to SCIT..!!!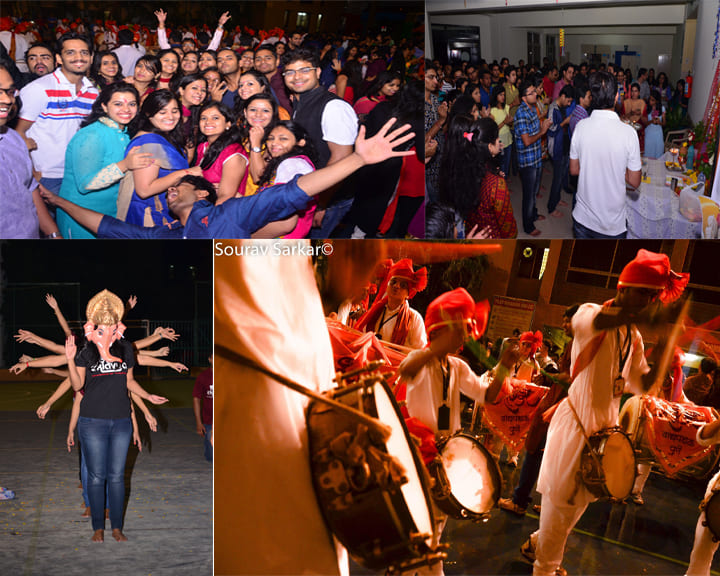 Ganesh Chaturthi, one of the most pompous festivals in Maharashtra, was celebrated with full vigour and zeal, from 17th of September'2015 till 27th of September'2015. But when it comes to a spectacular celebration, how can a Symbiosis college in Pune, SCIT stay back! And thus, SCIT too hosted this festival in honor of Lord Ganesha, and was celebrated with much grandeur in its campus, on 17th and 18th of September'2015.
The beginning of this festival in our college was marked by bringing a small but cute idol of Lord Ganesha made of "Shadu ka Mitti", which is environment-friendly, promoting "Go Green" concept, so that the idol when immersed in the water-body would get completely dissolved, thereby preventing water pollution. Not only this, the students also found out time from their busy schedules, and elaborately decorated the entire atrium area on 16th night, with enticing flowers, where the Idol had to be placed. The decoration also showcased some wonderful creativity from the tech-savvy students, who drew excellent sketches, paintings as well as phenomenal 'Rangoli'.
On 17th morning, the actual celebration started off with a mellifluous "Aarti" and some religious songs were also sung along with the chanting of prayers, by the students. The same process was carried on in the evening too, and the students were also offered a sweet named "Modak", which is believed to be the favourite of the lovable elephant-headed God. Post 'Aarti', all the students were asked to gather in the sports arena, where first there was a dance performance by the under-privileged children who are a part of ISR. Next to this, there were some splendid performances by the theatre group of SCIT, the 'Eklavya 8.0' as well as 'Symbeats'.
The second day of celebration, 18th, also commenced with 'Aarti' in the morning followed by serving all the students and faculties with a grand and sumptuous 'Maharashtrian' feast in lunch. It was a 'Traditional Day' in SCIT, so all the girls in beautiful and gorgeous Indian wear, and all the boys in impressive Ethnic Kurtas, gathered in the atrium for the evening Aarti, which was followed by some crazy photo-sessions and 'Selfies'. And then, it was time for the most awaited "Nashik Dhol". The 'Dhol Tasha performance' by "Aarambh" was breath-taking, as its very first beat kindled goose-bumps, and the crowd couldn't stay back from simply being spectators; in fact within fifteen minutes the entire college was on the ground, dancing wildly with high spirits and exuberance. Inspite of the fact that it was drizzling throughout, there were no signs of crowd being quiet, rather their excitement grew up with each and every beat of the drums.
Festivals always are the source of entertainment, bringing in lots of optimism amongst people. And it would be not wrong, if I say that these two days gave a 'break' to the students from their hectic schedules, thereby offering them a chance to unwind themselves.
With many more such celebrations and events gearing up, stay tuned for more enjoyment as well as relaxation!