Ganesh Chaturthi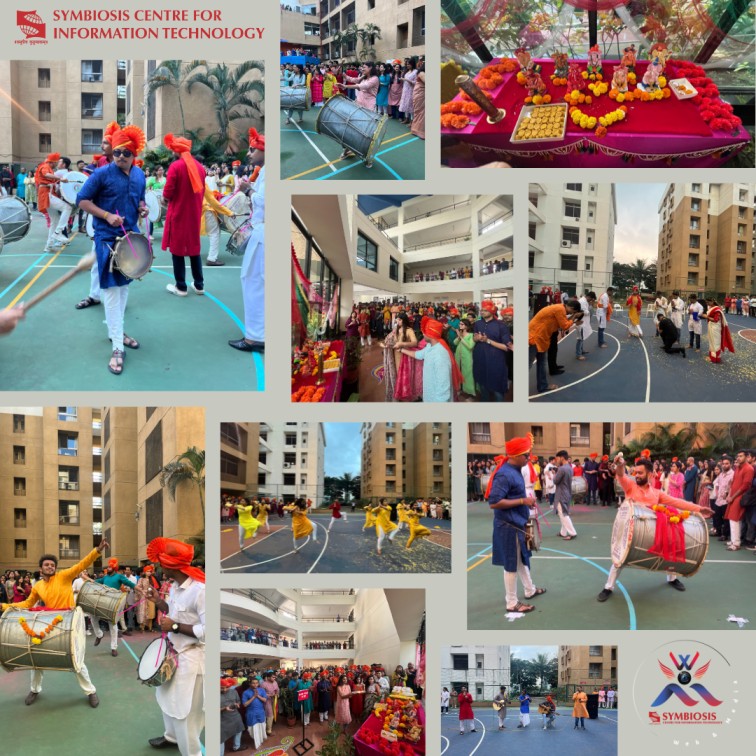 Om Ekadantaya Vidmahe Vakratundaya Dhimahi Tanno Danti Prachodayat
Ganesh Chaturthi, the vibrant and joyous festival celebrating the birth of Lord Ganesha, holds a special place in the hearts of millions of Indians. At Symbiosis, the preparation for the D-day began five days ago. On September 15th, the ISR and cultural committee of SCIT organized a series of events, which included Rangoli Ganesha and Green Ganesha. The Green Ganesha workshop was organized with Shri Swami Samarth Dindori Pranit NGO.
On September 19th, the celebration of Ganesh Chaturthi began with abundant joy and fervor as students from Symbiosis came together to worship Lord Ganesha near the Atrium. It was organized by the Cultural Committee of SCIT and SCMHRD students. The festival started by performing traditional Aarti to the Green Ganesha Idol made by students. Following that, Dhol Tasha's performance was put forth by students of SCIT, which added an exhilarating element to the festival. The Konnect team's singing and the Eklavya team's drama filled the audience's hearts with wonder and excitement. Students from SCMHRD showcased their talents through captivating dance and melodious singing performances. The students' flashmob constituted a remarkably choreographed and executed performance, demonstrating their exceptional talent and cohesion, which left the audience deeply impressed.
The International collaboration students from the University of Mainz immersed themselves in the vibrant festive, embracing the culture and traditions with enthusiasm and delight.
Ganesh Chaturthi celebrations are more than just religious rituals; they symbolize India's diversity and harmony. These events unite students from all backgrounds, fostering community and cross-cultural interaction. Festivals like Ganesh Chaturthi remind us of the common heritage that links us all as colleges embrace the values of inclusiveness and diversity. The happiness and camaraderie felt during this festival transcend the campus, leaving a lasting impression on everyone participating.