First Day at SCIT – Thats how MBA in IT Business Management Begins..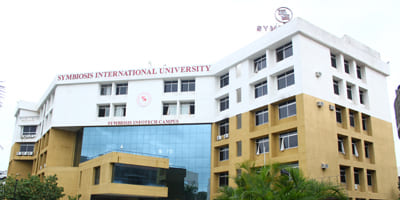 After spending 2.5 years in corporate world, finally the day arrived when I was about to begin my college life again. In lieu of pursuing higher studies, I got admission in SCIT (Symbiosis Centre for Information Technology). SCIT is a premier IT Business School nurturing genuine IT talent.  Vision of SCIT is to be world class IT B-School known for creating global IT Professionals.
My journey to SCIT began when I first came to SCIT for PI-WAT process after clearing SNAP (Symbiosis National Aptitude Test). Even before I got admission in SCIT, I was getting a feel inside, that this is the Institute where I would spend my next 2 years developing my managerial skills. And what could be more ecstatic moment for an IT Professional to get admission in MBA – IT Business Management Programme!!!
I reached Pune Railway Station around 7:15 AM on 4th June, 2014. Symbiosis Infotech Campus (SIC) is around 20 kms from Railway Station. I went directly to Hostel for First Year boys. We call it D-Hostel. Hostel Registration procedure was very simple. I was allotted room and I went to my room Hostel rooms are very spacious. They are allocated on triple sharing basis. Other facilities in room were also as per expectation. After getting ready for my first day, I went to SIC.
I went to Auditorium where First Induction session was scheduled at 11:30 AM. It was very exciting moment to see my batch mates for the first time.  All were dressed in formals. Like me, everybody was excited to start a new journey. It was clearly visible on faces of students. Finally, the Induction Program began…
The Induction program started with short film on Symbiosis International University (SIU). It depicted the incident that inspired Dr. S.B. Mujumdar for establishment of Symbiosis International University where Foreign and Indian students can learn together, live together and study together for their better future. Second short film was on SCIT. It consisted of Interviews of Alumni students of SCIT and how SCIT helped then shape their future.
It was followed by Saraswati Vandana & Lamp lightening by the Chief guest of the event Mr. Abhilash Verma, Director Citrix, and proud Alumni of SCIT. Dr. Raman – Director of SCIT, Dr Rajani Gupte – Vice Chancellor of SIU & Dr Vidhya Yeravdekar – Principal Director of Symbiosis Society also joined the Lamp lightening ceremony. Dr. Raman welcomed all the new students to SCIT. He explained about prioritizing Tasks and understanding Interruptions and Distractions. His speech was very motivational and mesmerising. Then Dr Rajani Gupte & Dr Vidhya Yeravdekar addressed the new joinees. Finally, Mr. Abhilash Verma also took opportunity to address and interact with the new students who joined SCIT. The Session was concluded by National Anthem. There was lot of energy visible on young faces with lot of ambitions to do some extra ordinary and shape the bright Future for themselves, country and whole world….
It felt to me like, it was Home, away from Home.
MIGHTY MIGHTY….SCIT !!!!