Field Marshal Sam 'Bahadur' Manekshaw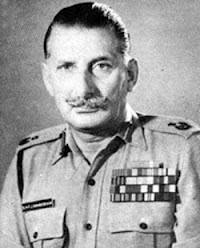 Sam Manekshaw was one of the greatest soldiers and war hero that India Army has ever had. Born Sam Hormusji Framji Jamshedji Manekshaw on April 3rd 1914, he became the first ever Field Marshal of the Indian Defence Forces and served the country gloriously through five wars and over forty years including the second world war. He became the 8th Chief of Army Staff (COAS) of the Indian Army in 1969. He had also received the Padma Vibhushan.
His long military career is studded with achievements. During World War II, Manekshaw saw action in Burma in the 1942 campaign on the Sittang River serving as a Captain in Indian Army. He was commanding his Company in a counter-attack against the invading Japanese Army on Pagoda Hill, which was a key position on the left of the Sittang bridgehead. After capturing the hill, he was hit by a burst of 9 LMG bullets in lung, liver and kidneys. Major General D.T. Cowan spotted Manekshaw holding on to life. Fearing the worst, Major General Cowan quickly pinned his own Military Cross Ribbon to Manekshaw saying, "A dead person cannot be awarded a Military Cross."
Manekshaw was almost pronounced dead when brought to Rangoon hospital in Burma. The military surgeon was reluctant to operate, seeing his hopeless condition. When the surgeon asked what had happened to him, he replied-'I was kicked by a donkey!'
After a 15 days long fight with death, he came out of danger. He was given the title of 'Bahadur' by his Regiment after this victory.
Sam Bahadur died at the age of 94 on the 27th June 2008 due to pneumonia and related complications at the Military Hospital in Wellington, Tamil Nadu. Soldiers with this level of commitment and determination are very rare nowadays.
Sameer Singh
MBA-ITBM(2013-2015)