Effective Career Management for Women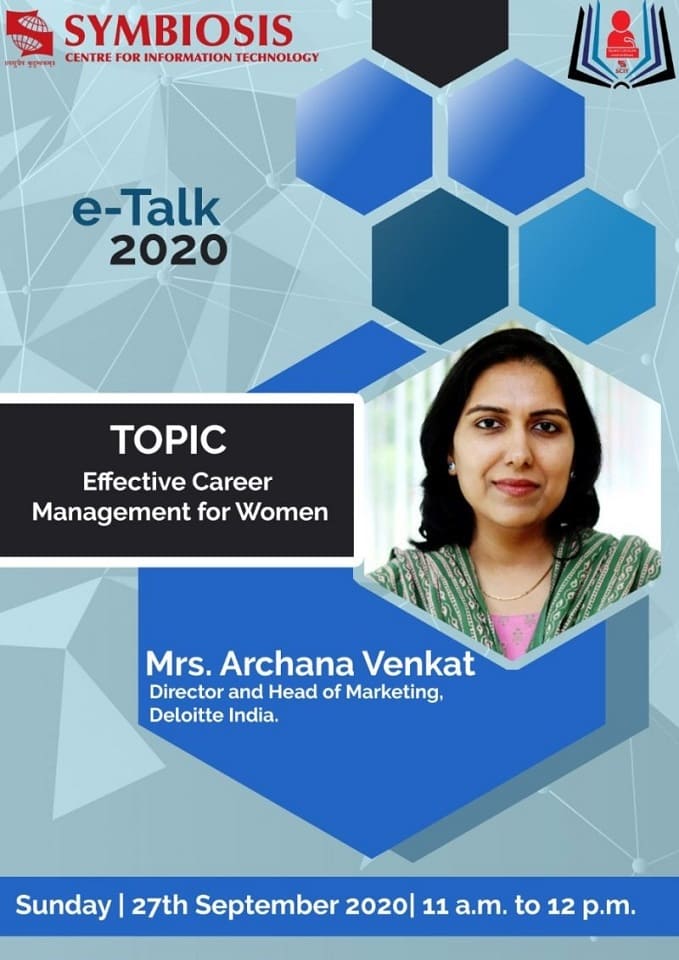 Online Guest Lecture of 27th September organized was something extraordinary. The speaker of the lecture was Mrs. Archana Venkat, Director and Head of Marketing- Financial Advisory Services at Deloitte Touche Tohmatsu India. She has 14 years of work experience and the last six years have been in leadership roles. She is among 23% of women working in the formal workforce in India and also among the 7% of women who are Directors and CXOs in India. She is running a women's professional forum in Bangalore from last 3.5 years to help women about-negotiating for career growth, managing family and work, tackling biases and harassment at work. The topic for the session was "Effective career management for women".
Speaker enlightened female students of SCIT about the context of women empowerment like- Understanding the current presence of women in corporate and key challenges, various factors affecting the women participation in a corporate career, career planning and career decisions for corporate women, factors affecting women participation at corporates.
Speaker predominantly focused on few parameters for women at corporate is not only salary, role and company brand but also the work-life balance, stability and career growth. She also suggested to emphasize more on the work and professional accomplishments to become a competent working professional. Thereupon, Speaker gave few mantras to females outshine in their professional career through two major steering paths:
Stronger negotiation skills– Speaker spoke, why men tend to end up with better economic negotiation than women because of a stronger professional network, updated skills and awareness of market standards. Women should keep the same pace to become a better negotiator, also need to believe in themselves to break cliché of the socio-cultural beliefs and barriers.
Planning your career– Planning career and understanding various roles and responsibilities in the journey an utmost important aspect for every female. Sabotaging the barriers to climb the ladder of success includes: taking new initiatives, urge to dive deep in project management and leadership roles; can leave an impact at various level of organization.
While ending the lecture, she mentioned about her book with stories of various women and their journeys to help them understand the challenges women face in their professional journey and how to overcome them. Overall, it was an exciting session for all the future women leaders, yet students enjoyed the most.