Drishtikon Module 4 – Group Discussion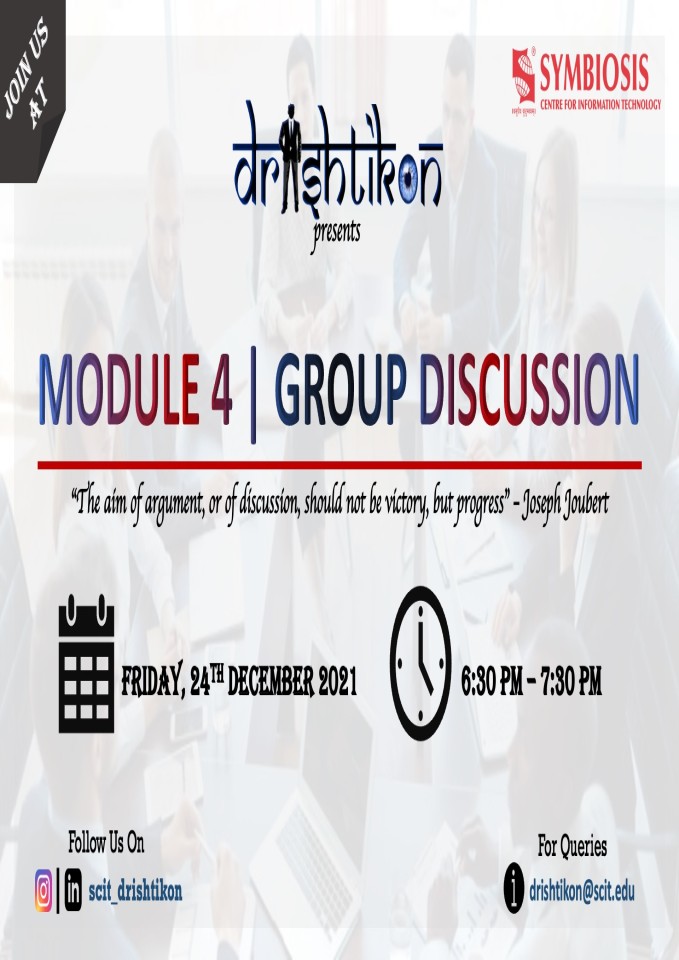 In December, Team Drishtikon organized their fourth module- Group Discussion. Group discussion is a method companies, or organizations use to check whether the candidates have certain personalities or skills that are a must for their members or employees. Group discussion refers to exchanging ideas on a primary issue or topic on a single platform. The session began with the team explaining how we often tend to make mistakes unintentionally when it comes to group discussion. The session proceeded with the team presenting a play wherein they highlighted a few errors students usually made during group discussion and gave tips.

First and foremost is an open-ended start. Whosoever plays the role of the beginner needs to make sure to set the premise for the topic or bring the subject in motion. The beginner needs to make sure that they don't give their viewpoint directly but build around the topic a little. After that, that person should put forward their views and not have an open-ended start. The members need to make sure there is no direct attack on anyone by taking their names. Always address the members of the group with some adjective like fellow mate. As a participant you should also make sure you don't always agree with one member of the group that will display that you are not adding points but just agreeing to one member.

When the group diverts from the topic, an essential role of the facilitator comes into play wherein you politely ask the group to come back to the relevant subject. The following situation is a fish market; the group members should responsibly make sure that they avoid this as creating a fish market will negatively impact the entire group. When a member ends a group discussion, make sure to cover all the points, like giving the whole group discussion roadmap. Providing a roadmap indicates that you have been actively listening throughout the discussion.