Dewang Mehta Awards 2017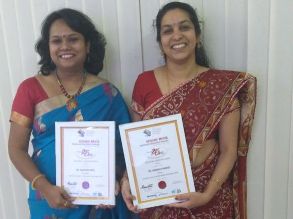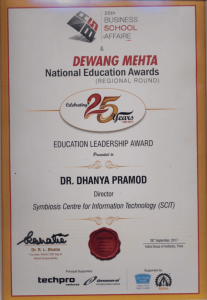 The Dewang Mehta National Education Awards is India's largest Education Awards Contest and is held as a part of World Marketing Congress. The Dewang Mehta National Education Awards has several contests with cash Award, Trophies, Citations & Certificate of Merit Judged by an independent jury. The Education Leadership Award is intensely researched by Post Graduates in History & Management with over 7 years research experience posts their studies. It is an iconic job of the research cell to produce a shortlist of Individuals who are doing extraordinary work and track the record of their achievements. The shortlist is then reviewed by a Jury comprising of senior professionals from across the globe. The criteria and competencies benchmarked are Educational Achievement, Placements, Leadership, Best in Class Infrastructure, Student Impact (Internal to the Organisation) and Future Orientation.
The Dewang Mehta National Education Awards celebrates their 25th Silver Jubilee year in 2017. On this occasion, Dr. Dhanya Pramod, Director, SCIT and Dr. Kanchan Patil, Deputy Director, SCIT were awarded with the prestigious Education Leadership Award 2017, at Pune Regional level. The award was presented to them on 26th September, 2017 at Indira Group of Institutes, Pune. The award was c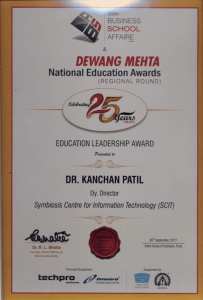 onferred upon the Director and Deputy Director, in the purview of their exceptional contributions to the field of Education. It also has laid its focus on the thought leadership that they have put in, on their area of expertise. The award is also a pointer to the achievements of SCIT, as an educational institute. The recognition has brought in more pride and motivation to everyone onboard, at SCIT. The accomplishments by its leaders always motivate the institution as a whole to soar high and achieve more. The award has added more feathers to SCIT's crown of achievements. We at SCIT hope to see more such milestones to cross, in our journey to success.