Cyber Security & Emerging Technologies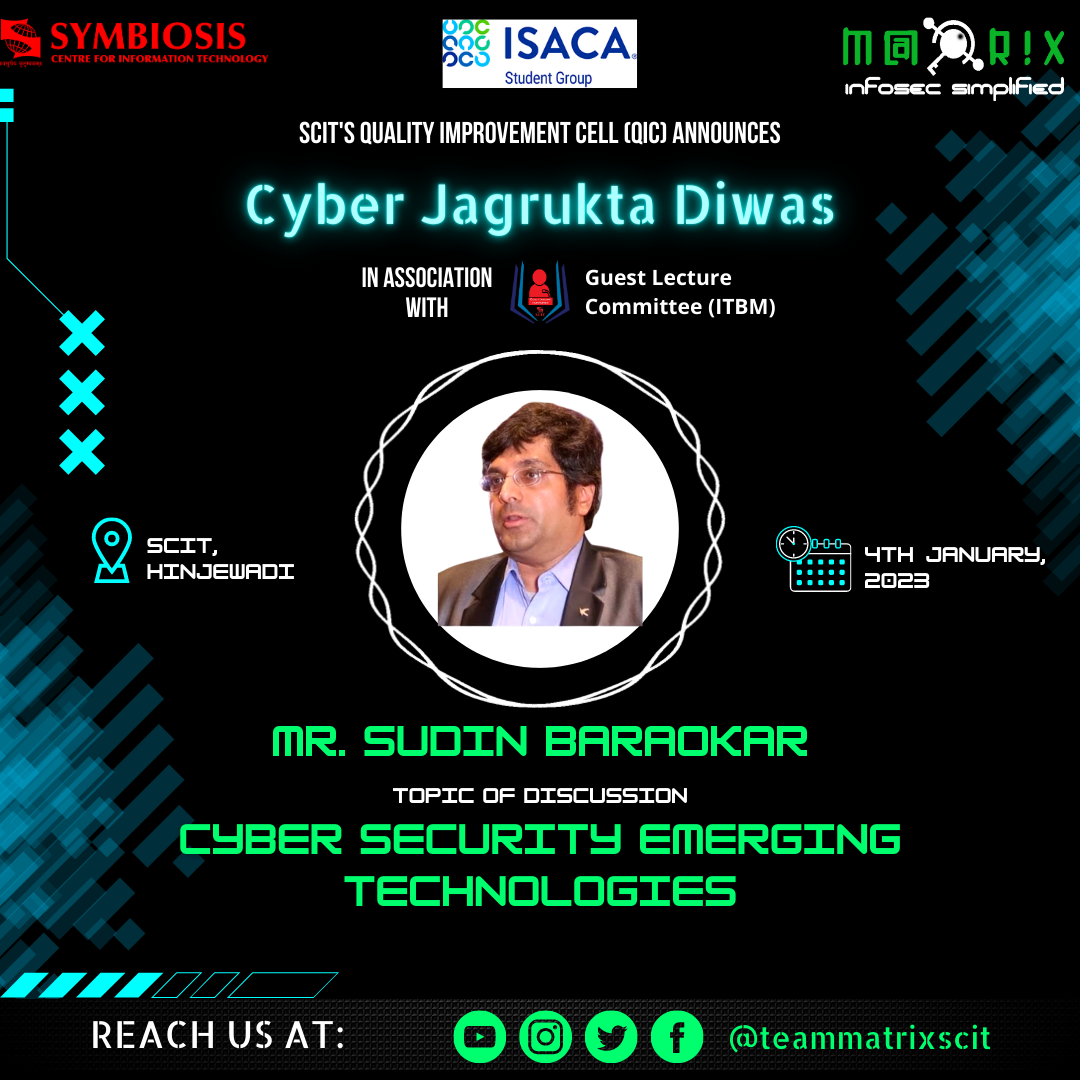 Companies like Google, Apple, Amazon, Meta, and Microsoft are digital transformation leaders. Despite the success of digital transformation, which opens up new doors for innovation and optimization, organizations are now ten times more vulnerable to data breaches and cyber threats.
On 4th January 2023, Sudin Baraokar, our guest lecturer in the expert talk series conducted by Team Matrix in association with the Guest Lecture committee, gave his insights on how cybersecurity facilitates digital transformation.
Sudin Barookar is the world's top-ranked technologist in Blockchain, Al, Data Science, and Emerging Tech. He established the Global Bank Chain Alliance in 2017 with SBI and 30+ Large Banks. He is a Global IT & Innovation Advisor and Founder of Deep Tech Startup. He has implemented over 50 significant transformation and innovation platforms, products and services across core banking transformation, digital payment infra, customer analytics, credit risk management, etc.

Sudin Baraokar shared his experience in banking transformation. He stated that Today, Digital platforms are cloud-based from day zero, and the risk taken in banking has given us 170 times economic value over 15-20 years, showcasing the importance of emerging tech. These transformation platforms can now be leveraged by sectors that need the most, like manufacturing and health care. Sudin shared his views on "Headless" digital transformation platforms, No code low code platforms, network visualization functions, and the importance of having synthetic data.

Later in his session, he emphasized the significance of security and storage management, data protection, how cloud security posture management makes everything secure, and the importance of governance, risk management and compliance in the organization.

At the end of the session, Mr Sudin answered various questions raised by students. We must agree that it was an exciting, power-packed knowledgeable session.