17th National Seminar at SCIT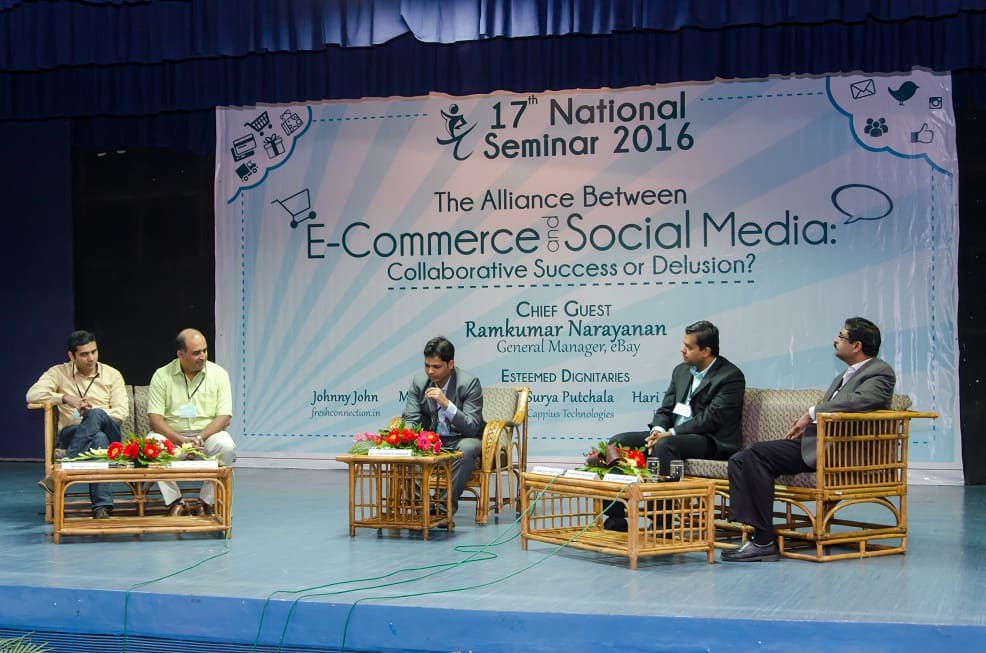 The month of September brought one of the most awaited event of the year, the 17th National Seminar on September 24th,2016. The theme of the seminar was "The Alliance between E-Commerce and Social Media: Collaborative Success or Delusion?". The Chief Guest for the day, Mr. Ramkumar Narayanan, General Manager,eBay, inaugurated the Seminar by lighting the Lamp of Knowledge along with Dr. Dhanya Pramod, Director, SCIT and Dr. Rajani Gupte, Vice Chancellor, Symbiosis International University.
Dr. Dhanya welcomed the audience and also spoke about the emerging trend of Social Commerce and how there is a need for synergy between Social media and e-commerce. She also said that while social media can be used for customer engagement and tracking customer loyalty there is a need to determine to what extent social media can be used for digital marketing and e-commerce without encroaching into a customer's personal space. Dr. Rajani Gupte in her address appreciated the relevance of the theme and spoke about building inter-disciplinary relations amongst the various institutions of Symbiosis International University by organising workshops, seminars etc. She cited examples from real life where social media influences a buyer's decision to purchase something and also spoke on how it impacts the life of people of all ages. With this, she highlighted the need to reach out to older people who are not yet comfortable with social media or e-commerce.
The Chief Guest for the day, Mr. Ramkumar Narayanan, General Manager, eBay in his keynote address spoke about how social media is a platform for commerce and how it can be used to drive commerce to address a wider audience and spoke about the challenges faced by them in this regard. He further brought up the point that most people who are not comfortable with e-commerce are comfortable with social media, so this is the segment that companies should look at. The eminent panellists for the discussion were: Mr. Johnny John, freshconnection.in, Mr. Mangesh Panditrao, Shoptimize, Mr. Surya Putchala, Cappius Technologies, Mr. Hari Pulipati, Facebook, and the moderator for the day was Mr. Chaitanya Sonkar, Ernst & Young.
The first question posed to the panel was why companies need social media when they have exceptional websites of their own. The panellists said that social media is a platform which most people use on a regular basis and hence discoverability of products or services is a crucial challenge. They also compared statistics and said that there are a lot of people who use social media but have not yet shopped online and firms should look towards targeting these people. They also highlighted the point that ads don't go waste because they continuously build the brand.
The discussion moved on to the risks that should be considered for social commerce where trust was seen as a major factor and how bad reviews or comments went easily viral compared to the popularity. Another problem faced by companies is that there are a lot of firms out there who claim to increase your popularity and followers on social media platforms and charge huge sums of money in return. This involves the risk of losing out money and there is absolutely no return on investment. They spoke on how Social Remarketing helps e-commerce companies to reach out to a wider audience network and how it can be used effectively for cross-selling and upselling but highlighted the need that remarketing needs to get smarter and companies shouldn't show the same advertisements everywhere.
The panellists touched on various social media platforms like Pinterest, Instagram, WeChat and even Whatsapp which are used by small business and entrepreneurs to showcase their products and develop relations with their customers.  Further, they discussed the importance of product and the right content and channel needed to market it, how channel optimization is important for revenue generation. There is a need for social media analytics to support e-commerce, the dynamics involving a number of variables for prediction and how machine learning and data analytics will shape the future of Social Commerce. The discussion proceeded in the direction of calculating ROI of using social media by e- commerce companies.  At the end of the discussion, the panellists answered questions from the audience on topics like data security, privacy of customers and multimedia marketing. Dr. Kanchan Patil, Deputy Director, SCIT, delivered the vote of thanks and this brought us to the end of a very interesting and informative session. The theme was very relevant for today's scenario and it helped us look at the various aspects that go into a firm's decision to go for social media and e-commerce. The students thoroughly enjoyed listening to such great speakers and it was definitely a great opportunity to learn a lot of things from people who are directly involved in making these decisions.