TEDxSIUHinjewadi 2016-17….Unleashing thoughts!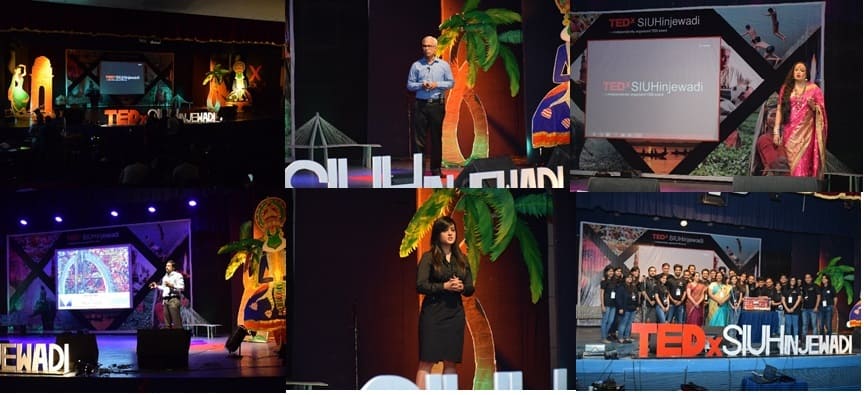 TEDxSIUHinjewadi was held on 7th Jan 2017 with a lot of fervour and enthusiasm. In the spirit of "Ideas worth spreading", the third edition of independently organized TEDx event was organized by SCIT a constituent of Symbiosis International University, Pune. TED is an annual event that brings together the world's leading thinkers and doers to share ideas that matter in any discipline — technology, entertainment, design, science, humanities, business, development.
TED has created TEDx, a program of local, self-organized events that bring people together to share a TED-like experience. At a TEDx event, TED Talks, videos and live speakers combine to spark deep discussion and connections. A TEDx event is not organized by TED Conferences, but is operated under a license from TED.
The event started off with the Teaser Video and the TEDx Introductory video being showcased. This was followed by a mesmerizing Kathakali performance by Chippy Kumar & Team. TEDxSIUHinjewadi was all about Unleashing Thoughts, the first speaker of the day was Maria Goretti who is an Ex- MTV VJ, Host of "The Maria Goretti Corner" on Youtube, Blogger and Writer. Her talk on "Happiness" gave a strong message to the audience to find happiness in the little things around and to go ahead and do whatever gives them happiness.
The second speaker for the day was Deepak Karanjikar, an economist, writer, National Spokesperson, former actor, Metamorphsis Consultant and a part of the Arthakranti Team. He spoke on Arthakranti and the highlighted the needs of the common man by talking about the economic conditions and taxation system of the country.
Rajiv Narang, the third speaker of the day is the founder of Erehwon and a part of National Planning Commission panel to recommend 'India's Innovation Strategy'.  He spoke on Orbit Shifting Innovation. In his talk, he said "Biggest Ideas don't just die, they get diluted".
The next speaker was Dr. Sundeep Kochar who is an internationally renowned celebrity Astrologer, Vastu Consultant, Motivational Speaker, Life Coach, Actor, Anchor and Author. He spoke on 'Mind Spa' and his journey from Cricket to Astrology.
The morning session ended with an enchanting performance by Kunal Newar who is a Mentalist and Illusionist left the audience gaping with his amazing tricks.
The second half of the session started with a talk by Manikandan who is a Coimbatore based jute machinery technocrat who has launched the Spero E-Bike, which is India's first crowd-funded bike. He spoke about how e-bikes and how they can help in energy conservation. He ended his talk by saying we need to be crazy to meet augmented consumer requirements.
Our next speaker was Sandeep Sonigra who is a leader in creating sustainable Eco-Friendly real estate and co-founder of Orange County Foundation, which is dedicated to research & development of Eco-Friendly construction practices in Urban Areas. He enlightened the audience about Eco-Friendly practices in Real Estate and explained why using Lime is better than Cement in construction.
Next, there was a special live graffiti and Bee Boying performance by the WickedBroz team which the audience thoroughly enjoyed.
This was followed by a talk by Laxmi Narayan Tripathy who is the first Transgender rights activist to represent Asia Pacific in UN 2008. She is the founder of an organization named Astitiva which works to promote the welfare of sexual minorities, their support and development. She enthralled the crowd with her talk on Changing Gender Dynamics in current Social-Economic Structure of India.
Our last speaker for the day was Nidhi Bhandari who is a custom made footwear designer and founder of the brand 'Nidhi Bhandari-Fine Couture Footwear' and whose shoes have been showcased on the Runway for Lakme Fashion Week 2015. She spoke on her journey from being a shoe lover to a shoe couturier.
The last performance of the day was Mh43India's band performance which got the crowd dancing and it was a spectacular ending for a day full of inspiring talks and amazing performances.
This edition of TEDxSIUHinjewadi was an amalgamation of all the ingredients of a successful event. Ranging from 8 accomplished Speakers to exceedingly talented Performers and an immensely engaged audience, the event was undoubtedly a big hit.
Apoorva Vikrant Kulkarni.