A Guest Lecture on Cloud Computing and Virtualization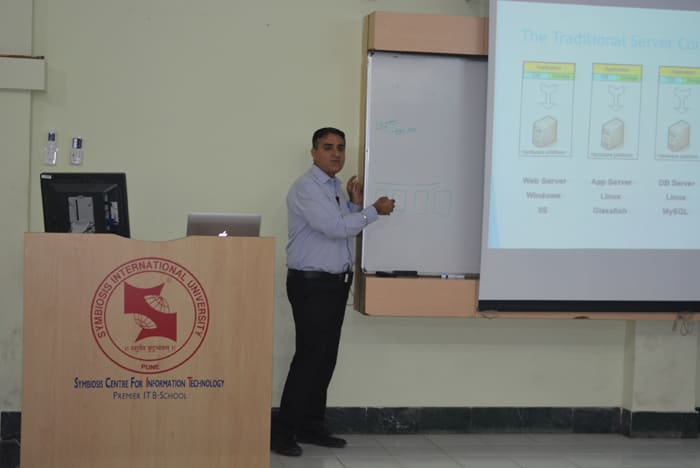 Cloud Computing and Virtualization
Date: 10th September 2016
Venue: Assembly Hall
Speaker: Mr. Amit Chauhan (Sr. Manager, R&D – EMC Corporation)
SCIT batch 2016-18 was thankful to have Mr. Amit Chauhan as its guest speaker, who enlightened the students on the topic of Cloud Computingand Virtualization. Assistant Prof. Anuradha Goswami welcomed Mr. Amit by handing over a bouquet to him.
Mr. Chauhan explained with more and more businesses opting for cloud solutions, it is going to be the next big thing in IT. In the simplest terms, cloud computing can be defined as, storing and accessing data and programs over the Internet instead of your computer's hard drive. The cloud is just a metaphor for the Internet.Businesses and individuals alike are using various different cloud offerings on the go. There are various services offered by Cloud. These include Iaas(Infrastructure as a Service), Paas(Platform as a Service), SaaS(Software as a Service). All these services provide a unique business solution to organizations – small or big.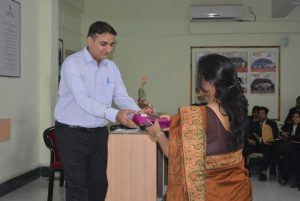 The main idea behind cloud computing is resource sharing to achieve optimum utilization of resources- network, storage etc. Resource sharing is accomplished through – Virtualization which is one of the hardware reducing and cost saving technology. With virtualization it is possible to run multiple instances of applications, thus increasing the utilization and reducing the cost.Virtualization is achieved through hypervisor. A hypervisor, also called a virtual machine manager, is a program that allows multiple operating systems to share a single hardware host. Owing to this fact, cloud has become very popular. Its advantages include from pay per use, reduced capital expenditure, and scalability. Yet, security is still a concern for many users as they are not aware where the data is stored on the server.
According to the Gartner's Hype Cycle, cloud computing and its manifestations are yet to stay in the future. More and more businesses and individuals are going to benefit from these services. The reasons that can be attributed to this success are more cloud applications availability, increase in growth in the market for cloud, more innovation.
The session was extremely educational and interactive. Students asked different questions on cloud computing and virtualization and got to know basic and advanced concepts of it. The lecture ended by presenting a token of thanks to Mr. Chauhan which was presented by Assistant Prof. Anuradha Goswami.