Where can an MBA in Information Technology Business Management take you?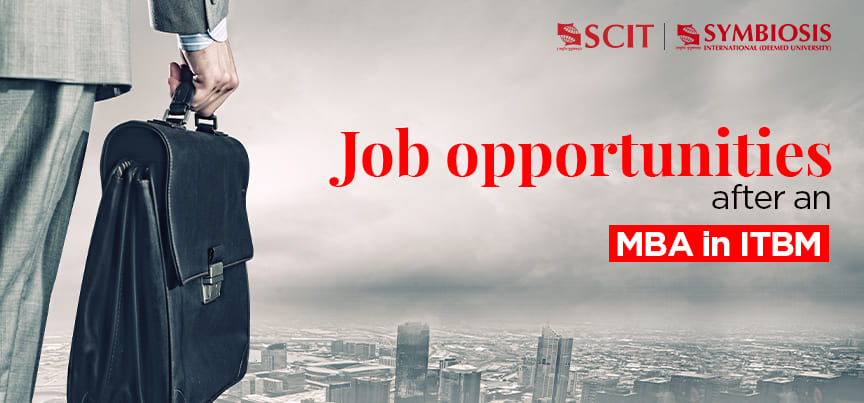 Over the years, the evolution of information technology has impacted business management in several ways. The idea of running IT like a business unit is a modern transformation in the corporate world. As a result of this shift, more organizations are turning to information technology and networks to increase their performances and streamline their services. In today's competitive scenario, an MBA in Information Technology Business Management acts as a prerequisite to an individual's profile. It involves various specializations like Systems, Information Security Management, Software Solutions Management, IT Infrastructure Management, and Data Science.
Listed below are some of the exciting job opportunities after an MBA in ITBM-
 Information Security Expert-
With rapidly escalating threats and modern cyber warfare, it is critical for organizations to be vigilant in battling attackers and shielding information assets. The primary job responsibilities of an information security expert are to devise plans to safeguard computer records against unauthorized modification. An IT security specialist performs risk assessments and tests on new software to protect the system from malware or data breach threats.
 Business Analyst-
A business analyst helps to guide organizations in improving their processes, products, services, and software through data analysis. Typically responsible for bridging the gap between IT and the business, they produce data-driven suggestions and reports for managers and stakeholders to improve efficiency and performance. They also create new models that support business decisions by working closely with the finance and IT teams to establish initiatives and plans to optimize costs.
Social Network and Sentiment Analyst–
Sentiment analysis or opinion mining is the method of determining the emotional tone behind the attitudes, opinions, and emotions displayed within an online mention. The primary job responsibility of a social media and sentiment analyst is to monitor social media posts and discussions through automated tools to figure out the reaction of the audience to a brand or event.
Risk Consultant-
One of the biggest challenges encountered by an organization is to safeguard customers' data against security breaches, system failures, and disasters. An IT risk consultant balances the operational and economic costs of protective measures to support business missions. The primary job responsibility of a risk consultant is to identify, measure, mitigate, and monitor potential risks. They help to protect organizations from technological events that can be detrimental to both the company and the environment. Thus, risk consultants play an integral part in ensuring the successful operations of any organization.
Big Data Analyst-
A data analyst consolidates, organizes, and examines large sets of data (known as Big Data) to identify patterns to estimate an organization's technical performance and provide guidance on system enhancements. Their primary job responsibility is to conduct data research and monitor data mining projects to make recommendations for better performances. They also ensure that the storage and availability of electronically stored data satisfy the company's needs.
Information Security Auditor-
An information security auditor gives reliability to companies' compliance audits. They do so by following best practices and by holding the relevant qualifications in information security. They plan, execute, and lead security audits in the company to improve the integrity of the system. Their main duty is to assess the efficiency, effectiveness, and compliance of operation methods with corporate security policies and related government regulations. They also devise and conduct risk-focused exams for IT systems to determine whether there are risks associated with them.
Software Architect–
Designing and developing software systems and applications are two of the most important job responsibilities of a software architect. They are required to interact with clients, product managers, and developers to provide initial software models that can be built. A software architect has to continually examine the code to ensure the quality of the design by avoiding complexity in developing prototypes. They are responsible for the technical support of the project from the moment of inception to the development of the final product.
While an MBA in Information Technology Business Management can help you land some of the most lucrative job opportunities in the IT domain, there are certain soft skills like communication, leadership, teamwork, and problem-solving that can go a long way for building a successful career. This programme will provide you with unique competitive advantages as you gain technical, analytical, and financial knowledge of the latest technology.