The Annual Integrity & Ethics Conclave 2022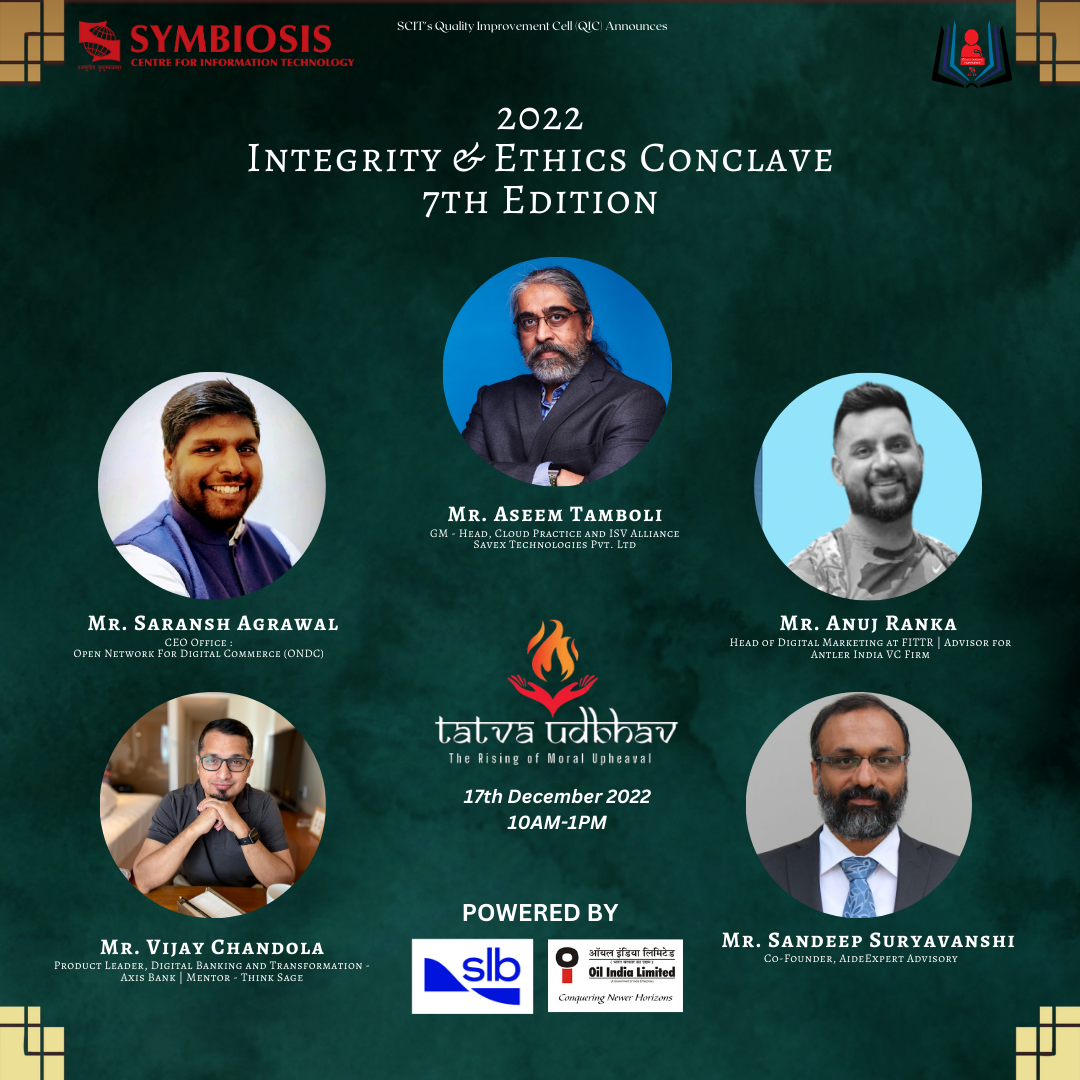 The Director of SCIT, Dr Dhanya Pramod, and the distinguished guests ignite the ceremonial lamp to mark the opening of the 7th Integrity and Ethics Conclave. I was ecstatic to be a part of such an event. The theme for this year was "tatva udbhav" – The rising of moral upheaval.
Everyone was anticipating a day filled with knowledge. The event started with an introduction and welcoming note by our director. She discussed the moral impasse each of us experiences daily, highlighting the significance of fundamental moral qualities like honesty and empathy in one's personal and professional life. She concluded by stating that ethical principles such as honesty, ethics, and morality should not just be preached but should be lived out and fiercely upheld.
We marched on to the main event, starting with the keynote speaker.
Aseem Tamboli (GM-Head, Cloud practice and ISV alliance Savex Tech Pvt Ltd):
He gave a quick introduction before moving on to a few metaphors about market upheavals. He placed particular emphasis on how many new businesses are transitioning to or will adapt to the cloud business model, he addressed the story of Zoom, describing how their valuation increased during the early stages of the pandemic, decreased after the pandemic, and how they adjusted to the adjustment to continue generating more income each year and remain competitive in the market.
Symbeats (the dance club of SCIT) presented a dance performance representing the concept of moonlighting. Their performance was such that it was tailored to the audience's needs to capture their attention and leave them wanting more.
Crafty Maneuver (Unethical Marketing) Speech by Anuj Ranka, Head of digital marketing at FITTR and advisor for Antler India VC Firm, discussed how speed is crucial for a startup's growth and how it should achieve profitability as quickly as feasible. He also discussed how digital marketing is involved. Additionally, he described how the clickbait matrix rebounds and fails to engage the user appropriately.
Blinkered Pedagogy (Biased AI) Speech by Mr Sandeep Suryawanshi began by talking about ethical AI and said that general AI has yet to make much progress and that most of the AI we meet are narrow AI. Additionally, we have a long way to go from creating so-called Super AI. Furthermore, he illustrated it with the scenario of an AI-automated car on the road with a moral problem. He outlined eight guiding principles addressing ethics, bias, responsibility, and privacy that need to be taken care of while developing AI technology.
After gathering a plethora of information about ethical AI and moonlighting, Team Eklavya (the drama club of SCIT) came up with a dramatic performance to make the understanding more lucid, a concept beautifully portrayed with comical examples of moonlighting, deceptive advertising, and excessive use of AI in our daily life.
Mercurial Culture (Moonlighting) Speech by Mr Vijay Chandola started his speech by introducing us to his decade of experience in product management and digital transformation. He said that nearly 37% of workers who have the practice of working second jobs do so to avoid getting let go. The issue includes three facets: a habit based on one's career, one focused on progress, and one based on money. Based on the three factors mentioned earlier, some businesses have a more open-door policy and offer more freedom for each employee to capitalize on their skills. However, whether moonlighting is ethical is a contentious issue with no conclusive answer; therefore, people should decide how they want their careers and abilities to advance and how they want to make money from it. A proper strategy will help them have a brighter future.
E-Commerce- Equality over Equity (ONDC) Speech, Mr Saransh Agarwal, CEO of Open Networks For Digital Commerce. He started with his brief introduction and directly jumped on citing the example during COVID that despite the abundance of stores, it still needed to be easier to connect. Even though there is a demand, there is no supply. Furthermore, he said how ONDC is a network that brings buyers and sellers together on one platform. Despite being controlled by fragmented media, e-commerce these platforms have been made available by ONDC across a single network. This platform addresses local vendors' issues so they can connect with the online platform and understand how consumers would profit from it.
With this, we were towards the end of the session, which concluded with a performance by Team Konnect. The performance captivated the entire audience leaving all of them mesmerized.