TEDx SIUHinjewadi 2023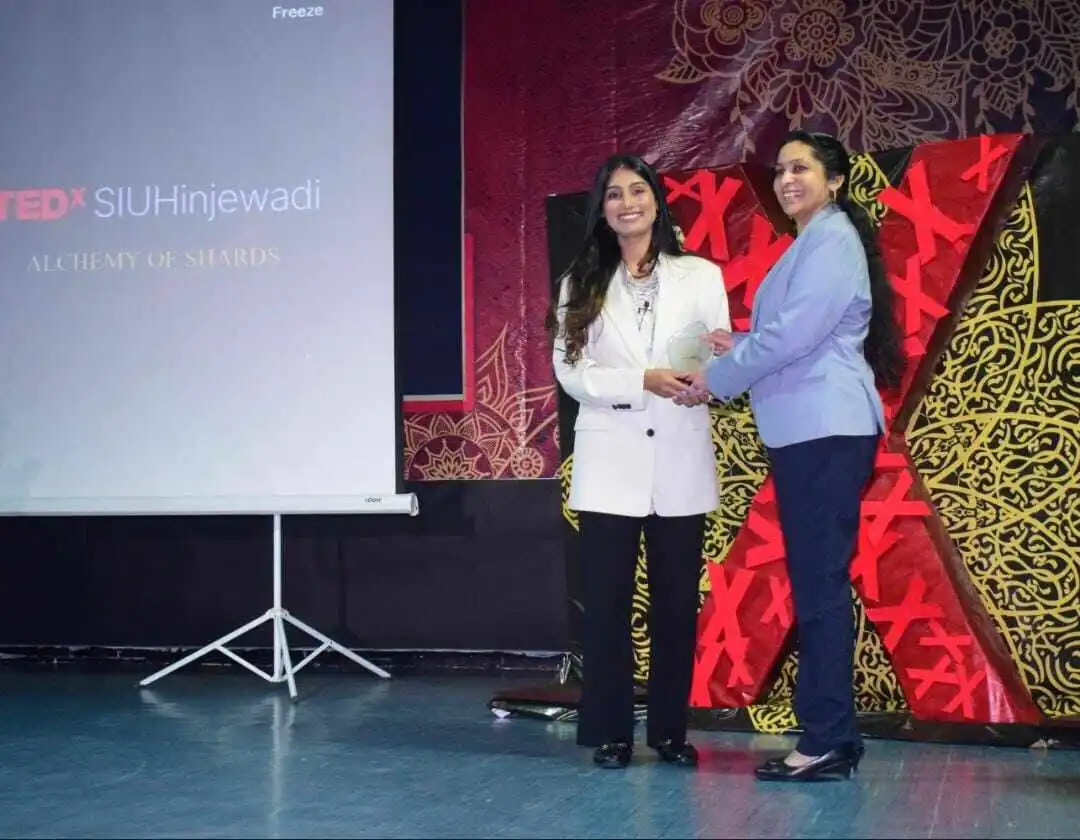 On January 28th, 2023, the auditorium at SIU Hinjewadi was buzzing with energy and excitement as the TEDx SIU Hinjewadi event took place. The theme of the event is alchemy of shards. The event brought together a talented group of five speakers and three performers, each sharing their unique perspectives and insights on a wide range of topics. The day was filled with inspiring stories, thought-provoking ideas, and a sense of community and connection as attendees and participants came together to celebrate the power of ideas to drive positive change.
The first speaker was Jaskirat Kaur, an IIT, IIM graduate, the head of International Business Development and Marketing at Machani Group, national pageant 'Gladrags Miss India' in 2013 spoke about the impact of people's perceptions on her life and career. She encouraged listeners to break free from limiting beliefs by taking perceptions as a challenge, focusing on their own dreams, and leveraging them for success. Jaskirat's insights highlight the importance of embracing individuality for personal and professional success.
The second speaker was Prajawal N.H, a 16-year-old entrepreneur who is a certified python programmer, azure data scientist, azure AI engineer, and scrum master. He founded his startup, Cloud Attack, in 2021 and was recognized as the youngest certified Azure AI engineer associate by India Book of Records. Prajawal's talk was incredibly inspiring, and he quoted that his love of his life is his vision of solving social problems through affordable technology. He shared his method of solving problems, which starts with just starting, searching for problems and solutions, empathizing, defining, testing the solution, and getting feedback.
Veena Sethuraman, the third speaker, is a learning and leadership development specialist who explores the art and science behind human behaviour. She is a mental health advocate and works to amplify the voices of the LGBTIQ community. Veena shared her story and the lessons she has learned along the way, including that failures and mistakes are inevitable but being stuck there is a choice, and that it is important to be kind to oneself and celebrate failures.
The fourth speaker, Shruti Agnihotri, is a production designer in the film industry, an artist, and a cat mother. Shruti shared how she overcame her fear of failure and how embracing change and celebrating impermanence has led to a peaceful and creative life.
The fifth speaker was Vishal Malhotra, an Indian film and television actor and show host. Vishal spoke about his acting career and how he became a successful entrepreneur. He emphasized the importance of consistency, passion for one's craft, financial independence, and never looking outward for validation.
The event was rounded off with three captivating performances. Ankita Chinnawar, a sand artist, made the audience emotional with her storytelling through art. Hrishikesh Tupkari and Ajay Chawale, musicians, gave voice to many emotions through their music. Lastly, Ankur Tangade, a comedian, left the audience in stitches with her humor.
In conclusion, TEDx SIUHinjewadi was a successful and inspiring event that showcased the talents of its speakers and performers. The lessons and stories shared will stay with the audience for a long time.