SproutIT 2019: Alpha Venturi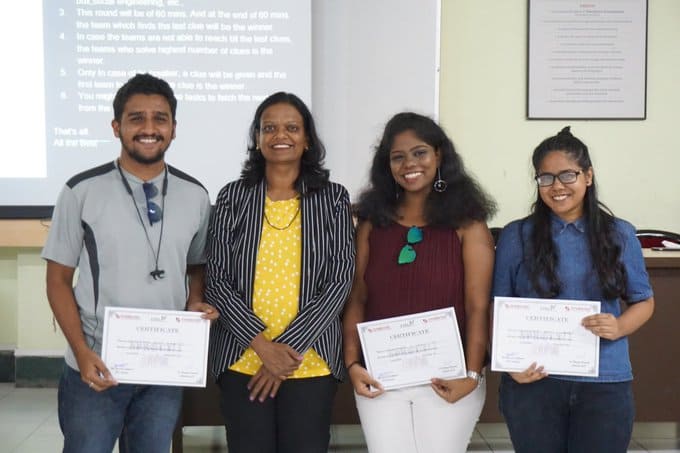 Sprout IT is the biggest techno-managerial event organized in Symbiosis Centre for Information Technology the on 14th September 2019. Sprout IT is all about testing your Leadership skills. And this year iTELF, Entrepreneur cell of Symbiosis Centre for Information Technology came up with the theme Alpha Venturi -Navigating through the unknown.
The theme, Alpha Venturi explicates the journey of a leader. It was a great opportunity for young aspiring minds to experience various hurdles and roadblocks and to navigate through those to get their team and themselves in the right direction.
Many students participated from across the colleges. The event itself organized various intriguing and exciting events to build your leadership persona.
The Chief guests were Dr. Priyadarshini Karve and Ms. Saili Jahagirdar. The event began with Director Dr. Dhanya Pramod and Professor Apoorva Kulkarni lighting the traditional lamp and inaugurating  the event.
The flagship event was Stratonaut and it was stacked up with fun activities like untangling your team while the team members would be blindfolded and only one leader would be guide them.  It covered the aspects of communication skills and traits required in a good leader.Fast and Curious which was designed to test the business knowledge of the contestants.
The other events included START the art of start-up which focused on bringing your ideas alive and build a B-plan but with various twists and turns. Another event was, Northern Star, which concentrated on testing your potential as being a leader with patience and team spirit. A treasure event hunt "Kshetra 51" where the participants had to find the clues in the entire the campus.
Game of Trades as the name suggests, was another event which was unique in its own sense. It involved the bidding and buying of the shares of the events, simulating the actual trading environment. An event Avviare was focussed on solving a real-world business problem which was presented in the form of case study to them. Other events like MUBG which focused on the participants marketing skills and how good they could have made the marketing strategies.
The event was successful and fostered a spirit of leadership and teamwork in the participants. The event brought justice to all the sleepless nights and the efforts of the students and the encouragement of the faculties in making the event a grand success.