Preparation Tips for Management Consulting Roles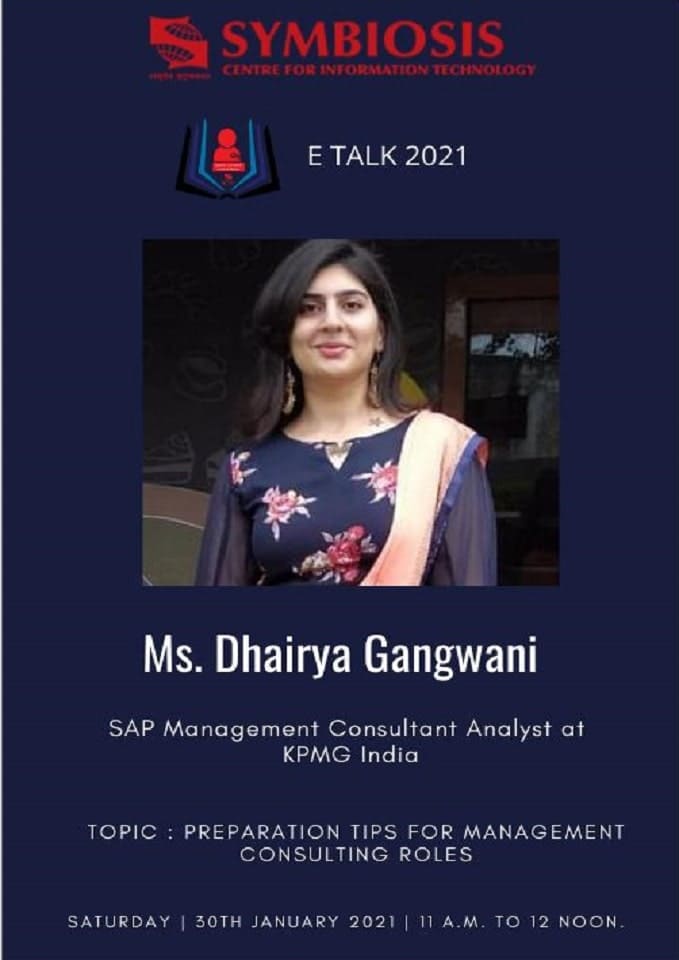 First month of the year 2021 ended with the exciting online Guest Lecture on 30th January. The topic for the lecture was "Preparation Tips for Management Consulting Roles", and the speaker for the lecture was Ms. Dhairya Gangwani, a Management Consultant Analyst at KPMG India (SAP). The ultimate goal of the lecture was to give exposure to students about the roadmap of how to get into the management consulting roles and excel in the same.
Our speaker is working as "SAP Management Consulting Analyst at KPMG", which says she is the right person to talk about the preparation tips for this role across the industry.
Speaker embarked the session with talking about eight process of management consulting wherein she briefed about: AS-IS model, then Understand process for redesign- where you would do fit-gap analysis], then TO-BE process, then identify change management within the business, then comes the Implementation is important, then comes the post evaluation part that is GO-Live talks about the stability of processes. She also talked about Management Consulting four steps process i.e. Strategize, Design, Implement and Growth.
Further she addressed the skills set required to become a potential candidate for Management Consultant role are: (a) Business knowledge (b) Problem solving acumen (c) Industry knowledge (d) Analytical skills (e) Quantitative analysis skills (f) Presentation skills (g) Interpersonal skills (h) Communication skills. Further she addressed the Management Consultant Recruitment Funnel of Big 4s and Big 3s wherein she majorly talked about Psychometric tests, Behavioural Interview vs Fit Interview, importance of Case Interview, etcetera. Another big parameter is to know about why firm x is your target, why consulting, be aware about firm workaround, mission, vision and purpose in the market to excel in interview. Later, she talked about the case interview wherein she talked about types of question, strategy behind the question structure, situational based question- following this she gave some pro-tips about how-to approach some scenario based questions.
While ending the session she enjoyed the Q&A session which enthralled the speaker and students also. She lastly gave simple advice to students that to keep a blended approach of preparation of going with soft, technical skills, moreover the situational awareness, and the well versed with "about-firm" and the Job roles & responsibility.