Pongal Celebrations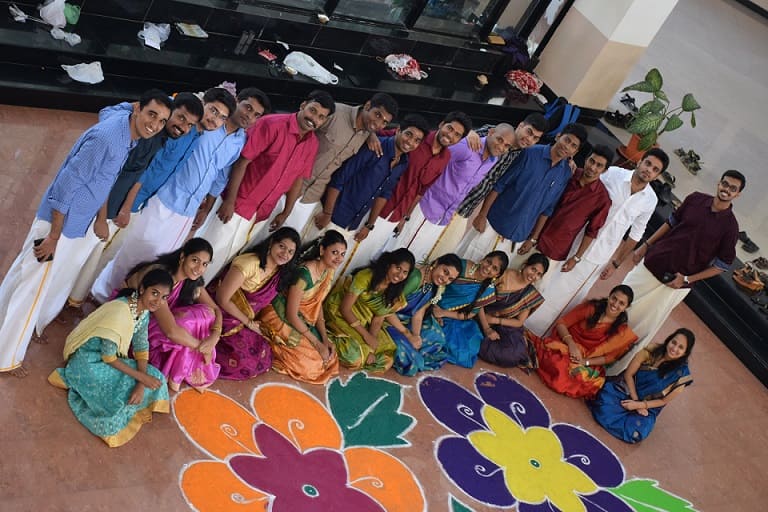 Pongal, a harvest festival celebrated in Tamil Nadu, considered a thanksgiving to nature, is taken from the Tamil word "Thai" which means "To Boil" held in the month of Janurary during the season when rice and other cereals, including sugarcane are harvested. SIC saw the Tamil community coming together in organizing the Pongal celebrations on January 5, 2017.
The students who actively organized and engaged came in traditional attire and the campus was filled with decorations and creative work where the Puja was to be held. Early in the morning, the Pongal ceremony began with rice being boiled in an earthenware pot outdoors symbolically offering to the sun-god. Dr. S.V.K Bharathi then joined to perform the puja at the atrium. In the afternoon, the students across the three campuses were served Pongal food; the Tamil community ensured the students got a chance to taste the traditional Tamil cuisine in banana leaf, where various items were served. Most of them enjoyed, as there was good turnover to the Pongal food compared to our regular mess food.
Later in the evening, many games were lined up as part of the celebrations, including Rangoli, Mehendi, Slow cycle racing, Blind fold game and Tug of war. There were contestants in large numbers for all the games. While a lot of girls participated in the Rangoli and Mehendi games, which included members from both the batches, and from all the three colleges as it was a diverse evening. The slow cycling race saw participants thriving hard to pedal as slow as possible, with most of them unable to cross except a few. The entire SIC Sports Arena was filled with participants and crowd for Blind fold game and especially, during the Tug of War, it was a matter of pride for all the three institutes in the campus as they competed fiercely against each other. An intense game saw SCIT returning as reigning champions.
The games ended on a high note and so did the Pongal celebrations for this year. SIC gets to witness celebration of various festivals and brings everyone together in every festival celebration in understanding the culture and a rainbow of traditions followed across our country.