Independence Day at SCIT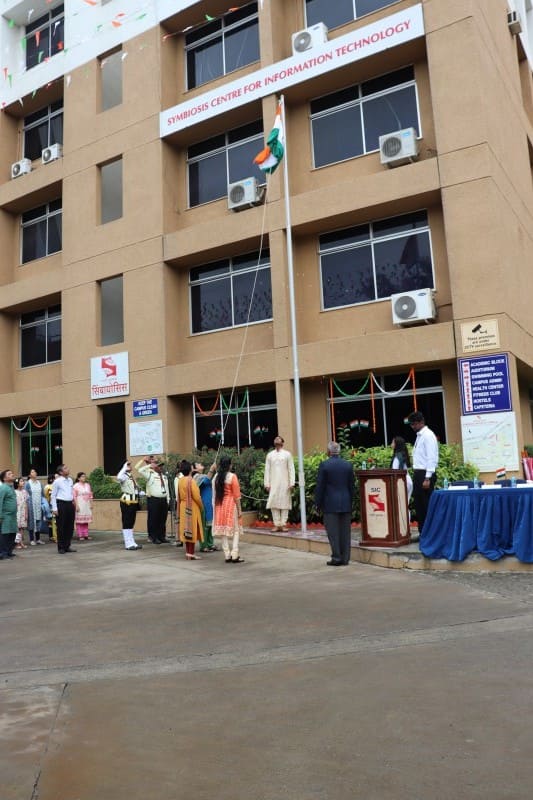 On 15 August, 1947, India awoke into independence once again. In fact, the country did not
sleep. India's first Prime Minister Pt. Jawaharlal Nehru delivered his historic address and our
countrymen geared up to keep our "tryst with destiny".
This 72nd Independence Day was celebrated with zeal and zest in Symbiosis Center for
Information Technology. Each year, this day is celebrated as a tribute to the spirit of freedom
and to the courage and sacrifices that countless men and women made. The day started with
the sight of decorated SCIT campus with the strands of flag touching the sky limit, clusters of
balloon ready to fly high and our respected Tiranga primed to hoist proudly. All the mighty
SCIT'ians suited up to the mark, showing "Unity in Diversity" among themselves. All the faculty
members, staff members and the domestic members showed their delight in the day by having
their presence.
The celebration started with Dr. Dhanya Pramod, Director, Symbiosis Centre for Information
Technology, welcoming the Chief Guest and the Guest of Honor. Immediately, flag was hoisted
with the feeling of gratitude, feeling of respect towards sacrifices, remembering all Shaheeds
and lightning their worth to praise work. The campus was humming with the beats of 'Jana
Gana Mana'. The programme continued with the speech of the Chief Guest of the day, Dr.
Prathima Sheorey, Director SCMHRD who made the students aware about the addiction to
technology among today's youth. All the students were startled with the bitter truth, but it's
the destiny they chose it.
Furthermore, awards were distributed to all the hard working domestic workers to make their
work worth appraisal. The celebration ended with the gifts and sweets distribution among the
joyous children. And lastly, cluster of balloons were freed with the new hope of to take our
wish of total freedom in our country. All the students, faculties and the staff members were
then dispersed with the patriotic proud feeling in their heart to start their journey again with
the great power and enthusiasm.
Jay Hind!