HR Analytics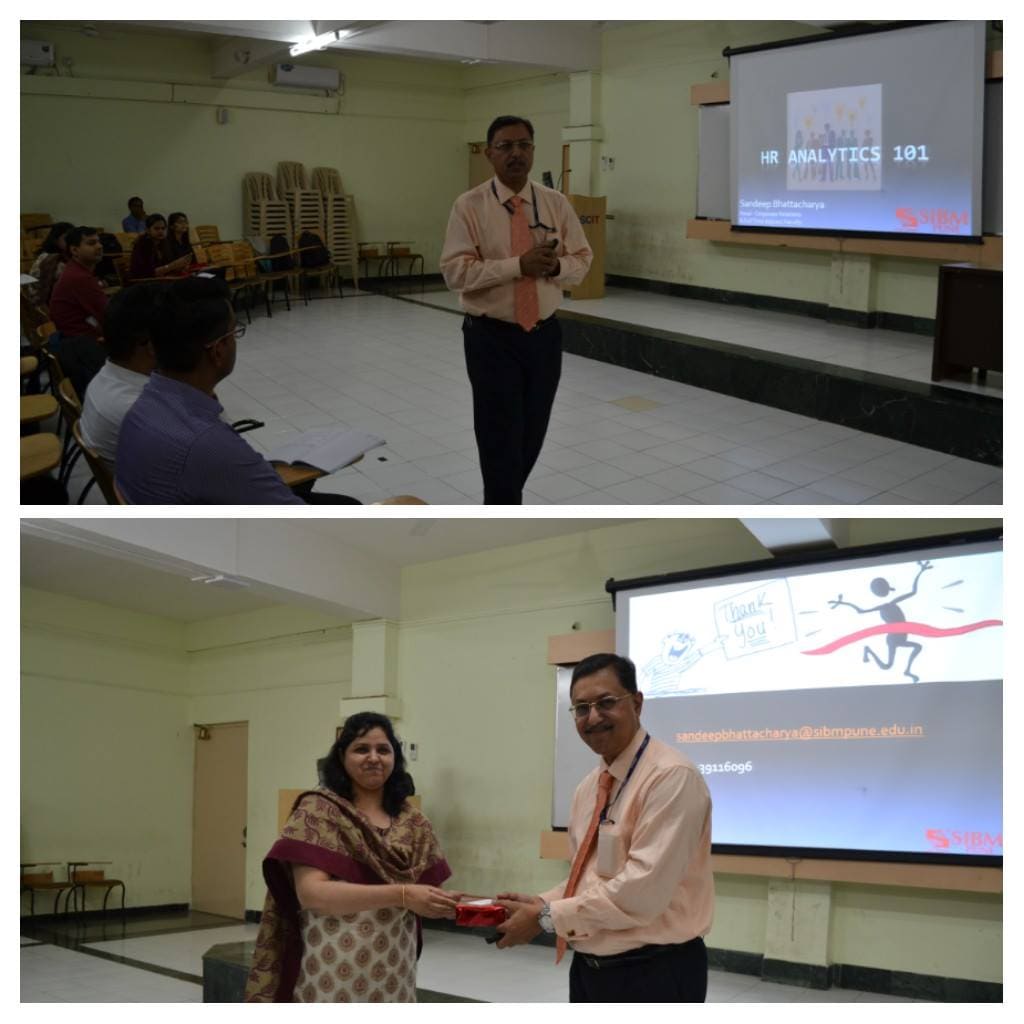 SCIT organized a guest lecture on 9th January, 2018 and the topic was 'HR Analytics 101'. The speaker for the event was Mr. Sandeep Bhattacharya who is the head of corporate relations and full time adjunct faculty at SIBM, Pune. He is an alumni of Narsee Monjee Institute of Management, Mumbai and has over 20 years' work experience.
He started off by stating that companies nowadays think only in the inside-out was and this acts as an obstacle in achieving success and growth. The best approach is the outside-in strategy. He stated that HR analytics is at the core of an organization's growth. Some of the challenges faced by HR are in the area of recruitment, engagement, retention, appraisals, productivity, enterprise growth, lay off and survival. Real life HR challenges that you face will differ drastically and it depends on the state of the business, industry an economy.
HR analytics is the measurement of people's behavior to determine the value and effectiveness of people strategies to achieve company goal. Typically includes items like cost per hire, attrition rates/cost, training and ROI, labor/productivity rates, benefit cost per employee, etc.
Analytics always follow the path from measurement which helps generate insights and in turn helps to take action. The speaker also stated the three parameters of analytics is efficiency which means how fast or how slow the process is done, the second is the effectiveness which means how well or otherwise you are performing and the third one is the impact i.e. the output or business result is better or not. Quantification is at the core of HR analytics.
The speaker stated the challenges and the benefits of human capital metrics. Some of the challenges are quantifiably linking HR with business goals, identifying the appropriate metrics, lack of appropriate technology/tools, obtaining raw data, integrating HR and corporate measurement, etc. The benefits to counter the challenges are that it provides competitive advantage, measurement to assess performance, to drill down business strategy to HR tactics, quantify the value of hR to guide workforce strategy, earn respect of senior management, turn data into information, benchmarking, improve support for employees, identify and remove/redesign inefficient HR programs, etc.
HR analytics helps to deep dive into the functional area by getting the data on what is the breakeven point of each new hire, number of key position we have filled this year versus last year, average time to fill per key role, line manager satisfaction index, candidate joining ratio, etc.
The session ended by the solving of a case study on Toyota Motors which helped the students to understand and apply the concepts learned in the guest lecture and helped to bring out the bigger application of HR analytics in real life.