Hello mumbai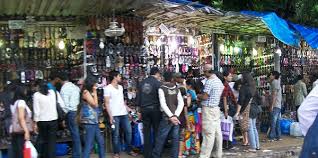 Packed the luggage..All set for mumbai…so excited!!!
Its 9am in the morning… went to Hinjewadi bus stop, waited for 1 hour all buses are full on top of that raining heavily. Finally got a bus ..no seats..stood in bus for 1 hour till people got down at lonavala and enjoyed the beautiful nature of lonavala through windows.
Finally reached at 2.30 pm and started to Vashi from Airoli by local train. You can learn marketing in mumbai trains, a woman with a stand with full of clutches and clips. It is too crowded and thank god we got seat. Reached Vashi, full of traffic, good thing about mumbai is autowala are so honest which I never find in any other city.
Next day shopping to sion, waited for 1:30 hour and got into train, places are already reserved for the seats getting down in the next station and there is no need to waste your energy to move, people behind you will push you. We got down 2 stations ahead of Sion because nobody is moving and we are at the center of the compartment. We went to linking road. It is incredible place for shoppers like me..Again you can improve your marketing skills by bargaining.
Love the things about mumbai – shopping, good food, good people…
SCIT MBA(ITBM)2013-2015