Farmer Suicides in an Agrarian Country-Irony!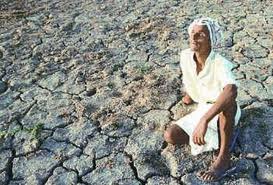 When I started looking for an issue to write,the one which caught my eye was the farmer suicides in India.The facts and stats that I will share are for sure scary and also eye opening.India is a agriculture based economy and more than 60% of India's population has some dependency on farming for their livelihood.
Agriculture in India is dependent almost completely on monsoons,if monsoon fails there is havoc and it is also the primary reason for farmer suicides.The problem here is that there are no provisions and readiness in India to face a situation like this.If proper water harvesting techniques are used,the problem can be reduced by a large margin.Government has plans to fund tube wells and bores but they are not sufficient and are not properly implemented.
According to P Sainath, in the six years between 2004 and 2009, as many as 102,628 tillers killed themselves. The total number of suicides in this period were 720,528, which makes farmer suicides 14.24 per cent.These figures make the situation much more alarming.
There are several issues responsible for the problem like exploitation of farmers by government and middlemen,and lot many catalysts-Promoting GM crops, Privatization, FDI and reduction of "sops" to farmers.
I will not be able to cover them all in a single blog,I will be back with more insights and suggestions.Till that time I leave the discussion open and sincerely urge you to THINK.
Amber
SCIT MBA(ITBM)2013-2015