Drishtikon 2.0: Module 1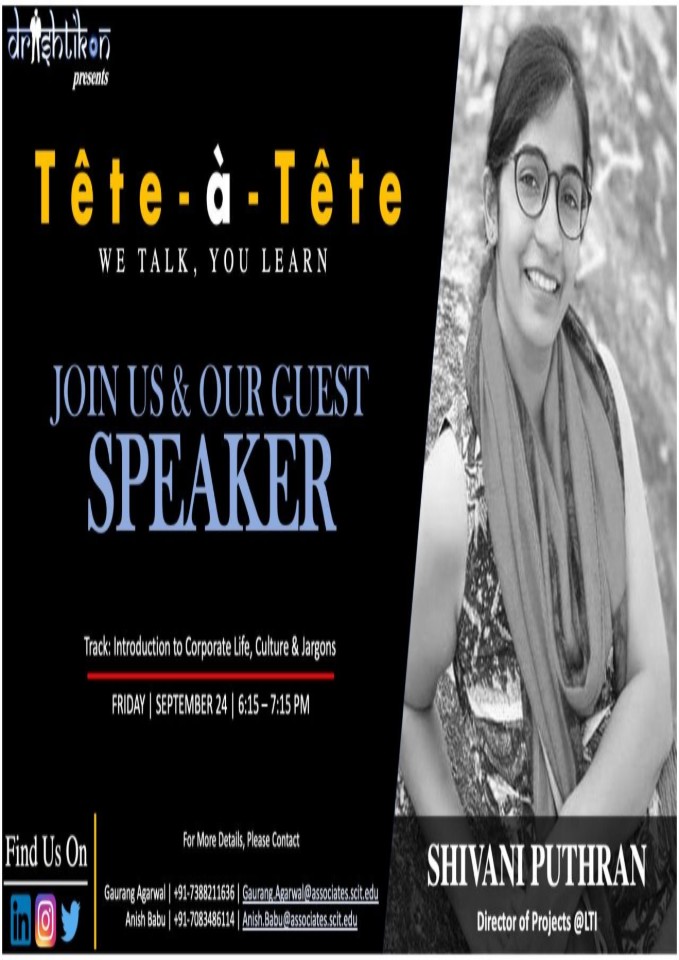 On 24th September 2021, the very first event of the newly formed club Drishtikon 2.0 took place. Drishtikon was created with one goal in mind Tete-A-Tete, we talk you learn. The honorary guest of the evening was Shivani Purthran, Director of Project at LTI. She has more than 15 years of experience working with clients in Northern America, the US, France, and Canada. She harbors various skills like delivery management, business analyst, customer management, and the list goes on.
She started the session by giving us an in-depth view of her multiple roles, starting from a developer to a Delivery Manager. She later stated how the various roles have helped her understand every situation from a 360-degree point of view. She explained how, compared to before, there is an open culture in the corporate and many communication channels to pitch in your thoughts and voices. It has become more of an open culture; we have transformed from formal to intelligent formals. Even the junior-most has the opportunity to reach out to seniors and decide on which path of their career they want to move along. I would define success as something in which I have done something with my utmost satisfaction, and if you face failure, learn from it and try to convert it into something successful. To be successful, I had given my 100% commitments, and in that, there were lots of sacrifices I had to make while working late nights on big projects. I remember how I could not maintain a work-life balance; I would advise everyone not to carry on with the guilt with the decision you are making if you sacrifice personal life moments. As a leader, I understand you can't work with authority; you need to provide your team with the platform to make their own decisions.