Day 9 – Independence Cup, 2016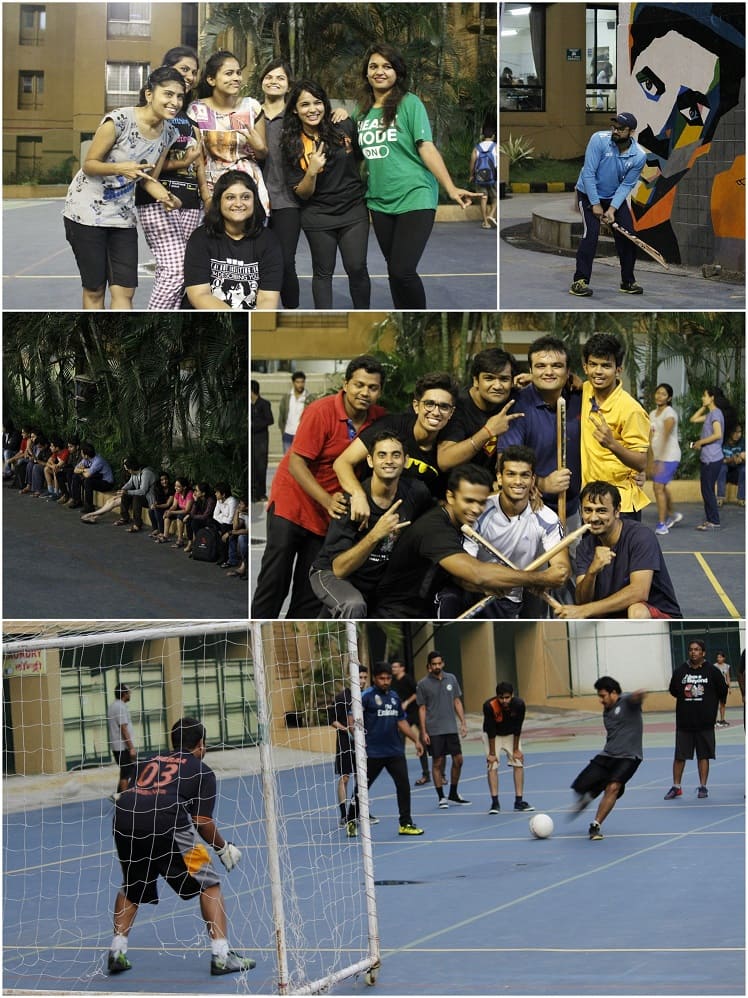 With the game of Volleyball edging out Cricket in getting done with the first semi final clash, Day 9 of the Independence Cup 2016 ensured that semi final for Cricket was not delayed further. Div. D Seniors came out to bat against a formidable Div. D Juniors just after sunset. Both the sides displayed great discipline in the initial couple of overs, it did not remain for long as Div. D Seniors stepped onto a landmine trying to accelerate and ended up finding the fielders, with many running out trying to add on a few more runs. When Seniors' captain was dismissed, the match sat comfortably in the Juniors' hands. Loud roar followed, which also signified that the Seniors' team was bundled out for a paltry 27. Juniors' team came out to bat and to no one's surprise chased it down with 7 wickets in hand. Div. D Juniors becomes the first team to reach the finals of Independence Cup 2016.
Girls Volleyball had their Finals played between Seniors and Juniors. Competitive players from all divisions across both the batches were put forward and took centre stage. Seniors' heat proved too hot to handle for the Juniors as they completed the proceedings with a 2-0 sweep.
A Football penalty for the Boys between Div. C Senior and Div. A Senior was slated early in the evening to decide the qualifie, who would go on to meet Div. D Senior in the Semi final clash. The suspense was not held for long as Div. A Senior shot 3-1 over Div. C Senior and caught their birth in the Semi finals.
Last game for the evening was an exhibition match of cricket between the batch of 13-15 and 16-18. The Seniors' super seniors (Batch of 13-15) won the toss and opted to bat. With the best 8 of the current batch of 16-18 selected for play, it did not matter for the veterans as they went on to score a brisk 69. Soon after juniors' batch of 16-18 came out in the middle, with much support, the real action began. With a number of players out in jersey, the Seniors' continual sledging was the highlight as every dot ball made it worse for the batsman. Adding to those early wickets in the first over added further pressure onto the Juniors. A whacking shot straight to the fielder in the covers, leading to a drop, which brought arousing applauds, not from the crowd, but from the very same fielding team including the Captain directed towards the batsman; this summed up the game for the evening. Juniors' bundled out for a low score and the Super^2 Seniors' smiles could reverberate their possible dominance few years back. The 13-15 batch invited 16-18 for a collective photograph as the entire crowd appreciated and blew the phrase "Mighty! Mighty! SCIT"