Day 1 – Japanese Buddy Program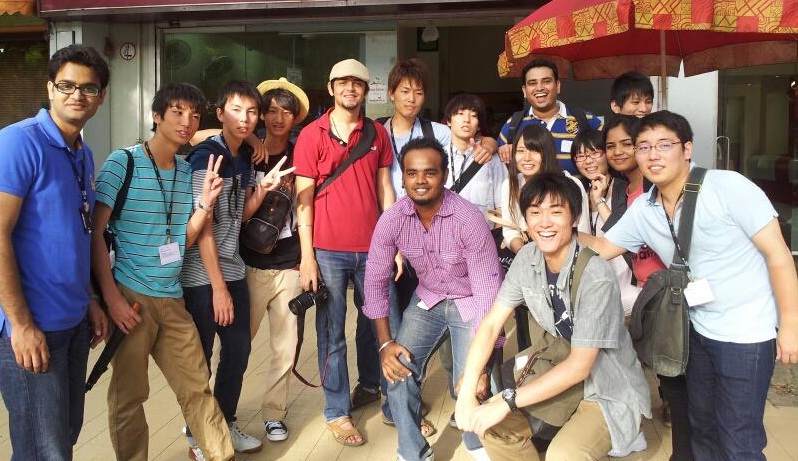 Day 1- Japanese Buddy Program
"Gratitude is not only the greatest of virtues, but the parent of all others." – Cicero
Gratitude is what you receive when you meet a Japanese person – a gentle respectful bow to welcome you. As I entered Tamanna Hotel, where our fellow Japanese buddies were eagerly waiting to go on a Pune tour. Yusuke entered in three piece suit to meet his respectful professor, which I later came to know as a part of tradition – where you meet you professor in business attire.
We 8 SCITians grouped with Japanese buddies and took them to SIC Campus where the bus was waiting for us. From there we went to Atur Center. We then grouped ourselves in 2:1 ratio and took Autorickshaw to Pataleshwar Temple on JM Road. The Autorickshaw ride was one of the amazing firsthand experiences they had about "Schumacher type driving" on Indian Roads.
Pataleshwar Cave Temple Visit – The temple is a rock-cut cave temple. The temple, made of basalt rock, is dedicated to the Hindu god Shiva. We explained them about the monolithic structure and various mythological stories surrounding it. They clicked many photos of the temple and then we left to have some delicious food in Café Good Luck(since 1935) on FC Road.
Hotel is famous when you have to wait for a long time and when a Harley Davidson is parked outside the hotel. We all were very hungry so we quickly grabbed the menu, to my surprise the Japanese buddies have studied Indian cuisine very well and they quickly ordered Butter Chicken and Roti/Chapati. We offered them Lassi which few like, few didn't. The lunch went well and all enjoyed their experience with the "Curry Food" which they call it.
We then roamed on FC Road, where Rumi-san bought some gifts for her friends in Japan and Oi-san tried her luck with Pan(Sweet stuffed inside Betel leaf). While we were shopping few went ahead and had Jalebi from Kadai. All enjoyed the "finger licking good" Jalebi, soon after that we made our way back to Atur Center and from there back to college.
It was a very enjoyable and memorable experience with my new Japanese Friends.
Saurabh -First Year   MBA(ITBM) @ SCIT