Current Job Scenario in IT/Tech Industry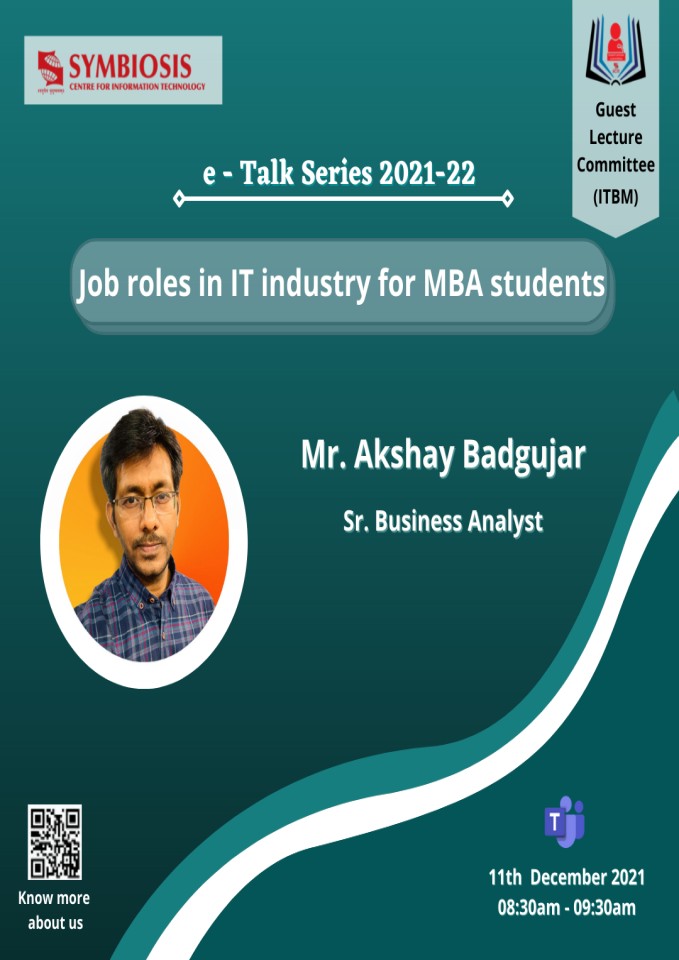 On the back of evolving technology and increasing automation, the nature of traditional IT jobs and roles are constantly progressing leading to a rich business outlook. In the Manifestation of this prospect, we had a Guest lecture titled 'Current Job Scenario in IT/Tech Industry' in December 2021. The session was hosted by the zealous Akshay Badgujar, who comes with a prodigious 10 years of expertise in Business Analysis. Six happening job roles were covered during the session.

For one, Product Manager was studied. Product Manager Manages the product
throughout its lifecycle – conception through end-of-life. He should work on Product Strategy, Value Proposition, Root cause analysis, Research & Competitive analysis. A PM aspirant should have Marketing skills, Market Research skills, Analytical skills Leadership & Management skill. Next, a Product Owner Transitions the product strategy and roadmap into a prioritized backlog to ensure transparency into the upcoming work of the product development team. So, a Product Owner should be an Advocate of agile methodology, understand the technology, have great Analytical, written, and verbal communication skills. Akshay then discussed the sought-after Business Analyst role. He gathers and articulates requirements to developers, interacts and manages stakeholders, creates BROS, FRDs, Use Case diagrams and also tests the results. Assertiveness, Communication Skills, Documentation, Evaluation and UI/UX skills are expected out of a BA. A Project Manager develops a project plan aligning budget, time resources, manages project
documents, artifacts and risks. People Management and leadership skills are the key skills of PM.
A Scrum Master facilitates Scrum to the team, ensures scrum framework is upheld, hosts daily standups & other scrum events. He should be an expert in agile, conflict management, coaching. A Business development/ Presales researches and identifies new business opportunities and he should have strong networking, proposal preparation and CRM skills. We hope that this blessed session can help students to apply their efforts in the right direction.