CHILD ABUSE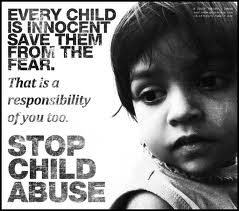 What is Child abuse :-
• Sexual touching any part of the body.
• All penetrative sex, including penetration of the mouth with an object or part of the body
• Encouraging a child to engage in sexual activity.
• Meeting a child following sexual 'grooming', or preparation, with the intention of abusing them
• Taking, making, permitting to take, distributing, showing or advertising indecent images of children
• Paying for the sexual services of a child or encouraging them into prostitution or pornography
• Showing a child images of pornography including photographs, videos or via webcams.
FOR HELP CALL
POLICE- 100
CHILDLINE- 1098
Sunil Saroj– SCIT MBA(ITBM)2013-2015