A Demand Never Ending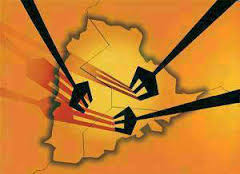 "It wasn't an easy decision but now everyone has been heard and a decision has been taken," senior Congress leader Digvijaya Singh told Indian media.
"We're swallowing the poison for our party. The decision is very unfortunate but since our leader has taken the decision we'll abide by it. We know the consequences, the problems that will follow," said Rudraraju Padma Raju, the Congress chief whip in Andhra Pradesh.
Courtesy: BBC News
Come on folks, if not wrong, this is the state where Nizams once ruled and social bonding was in existence during their reign. I ask,"What happened to democracy and secularism amongst the people of Andhra Pradesh?" This is the era , I think so, where people are going round and round their personal agenda to prove that they can control each and every thing that have been privileged to them by Indian Government. Is this the way to have your own space on a totally diversified land of cultures?
Nooooooo!
Every now and then there will be a demand for a separate state. Who said to ask for your own State? Tomorrow people will ask for individual caste-based societies to be declared as States (I go to an extent of saying, they will ask probably to be declared countries!) ?
The last three new states in India were formed in 2000: Chhattisgarh was created out of eastern Madhya Pradesh, Uttarakhand was created out of the hilly areas of northern Uttar Pradesh, and Jharkhand was carved from Bihar's southern districts.
We must stop here now. Today its Telangana, tomorrow it will be Vidarbha!
akshay.dighade-SCIT MBA(ITBM)2013-2015