SCIT Students Participate on SAPBIZTECH Competition | Blog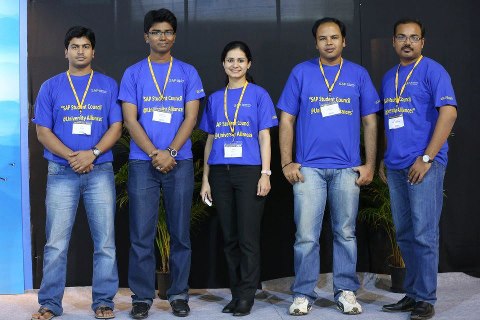 Dear All
We have proved it again that its not placement alone but even for innovation and research.. SCIT rocks.. !
SAP University Alliances and SAP Labs India invited all students in Universities, Business Schools and engineering colleges in India to participate in SAPBIZTECH competition. The competition was based on innovation and research which made the students to build a product which is based on a theme. The product encompassed all the aspects of product development – starting with a business plan, a go-to-market strategy, pricing strategy, delivery model –SaaS or on-premise, User Interface mockups and a working prototype.
More than 200 team across India including the best B schools and technology institutions participated and 6 finalist teams were selected for all expenses paid final presentation at Bangalore. SAP extended all the Six finalist teams for an Summer Internship interview opportunity with SAP Labs India.
I must mention that of the SIX finalist teams selected THREE were from SCIT.
The final presentation was held in Bangalore yesterday and one of the SCIT team ( All First year MBA- ITBM students of SCIT) emerged as final Champions (Winners) with a cash prize Rs.1,00,000 (One Lakh) and all paid trip to SAP labs at Orlando – United States of America to represent team India in SAPTECHED event next year
Dr. R Raman PhD
Director- Symbiosis Centre for Information Technology [SCIT] Symbiosis International University