Where we lack in sports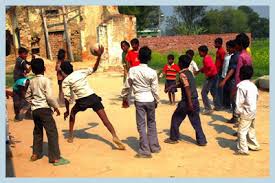 India is one of the developing countries with population around 1.241 billion, a country with such an huge population has tremendous potential and talent in every field such as science,technology,sports,etc. Let us consider a small child in India who starts to play with bat in his hand which shows the influence of cricket in India but till what time do he continues to play? The reason behind it is sportsperson  can't fix there mind at early stage whether to excel in sports or to excel in studies or continue doing both. As the future of sports in india is not good, if we talk about sports in India there are very few sports which are been played except from cricket, we are lacking behind in various sports like hockey,  football,handball, and so the fear of selecting the sports of choice is also one reason. No parents in India would like to encourage their children to discontinue their studies as there is no guarantee of earning a livelihood in a nation where not all the sports are patronised by its citizens.
The problems the sportspersons encounter in the path towards excellence are plenty and only the people who get into the depth would be able to fathom the reasons. In the countries where the sportspersons keep on excelling, they have an opportunity to select any sport as a choice of career and even discontinue education. The welfare policies of those governments towards its people allow them to make such choices. Consider our neighbouring country china, which comes with an sustainable plans for every sport which make them a sport culture country. Schools have professional physical educators and exercise facilities, students failing to reach the required physical standards are not allowed to go on to higher schools.There are 3000 sports club and around 1000 sports schools in china. In China's system, any child who is recruited by a team will have a chance to develop his or her talent without financial obstacles, and many of China's top athletes come from poor rural backgrounds.
Let us consider an average Indian child. Think about the access to sports facilities that he has at the school age. The facilities probably will be there for one or two sports that too shared by so many other children. Many children do not have shared facilities as well. Even those who have access to facilities cannot use them properly due to insane education system in the country that makes every child slog. Many schools even do not have a small ground forgetting any sports facilities. When the child is not even exposed to many sports, how can we even expect the child to aspire for excellence in any sport? society starts to crib about sport and  persons ability to perform well in sport this make him feel low in society as he is continuously compared with the educated people in the society .This comparison is common with Indian families.In addition to the basic problems, there are some created reasons as well that trouble the sportspersons in the country. The one being corruption which takes place during the national selection trials. The talented person is not recognized and those with a strong influence in politics are recognized. Lots of sportspersons do not get a chance to travel to big sporting events held outside the country and the reason always is the lack of funds. That's why limited number of sportsmen travel. But more officials than the number of sportspersons travel for such events and they enjoy free holidays along with their families. None of the sportspersons know what all these officials do and in what way they help the sportspersons. But if any sportspersons raise their voice against such injustice, it is like announcing retirement from the game.
Any talent will be identified when someone is a child. That is where India lacks as compared to developed nations. I am not judging the governing body of sports in India neither criticizing the education system for it but as a Sportsperson sharing some of  the problems which a sportsperson face. As a countrymen its our sole responsibility to encourage and support sports so that our country holds a good position among the competitive countries across the globe.
---
Swapnil Kadam
(MBA-ITBM 2013-15)