Metaverse: Experience the New Universe For Sustainability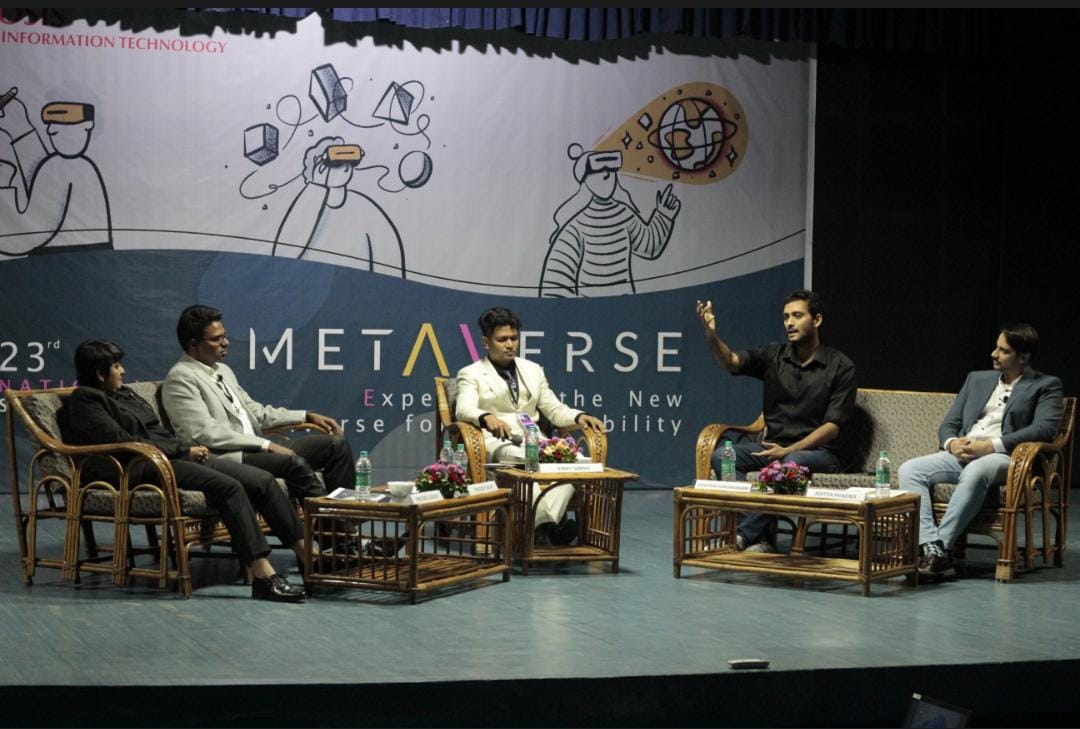 After last year's online National Seminar, it was a rejuvenating and welcome change to have the 22nd National Seminar on the SCIT campus on the 24th of September. The announcers introduced the audience to the seminar's theme, i.e. 'Metaverse: Experience the New Universe For Sustainability.'
The session started with the Director, Dr Dhanya Pramod Ma'am, sharing her views on the idea of the National Seminar and its theme. This was followed by an enlightening speech by the chief guest, Dr Bose K Nair(Former President, WTC Shamshabad & Visakhapatnam).
The panellists then took centre stage. The panel had Vinay Sabnis(Head of Business Development at Techila Global Services) as the moderator and Aditya Phadnis(UX Strategist & Metaverse Lead at LTI – Larsen & Toubro Infotech), Krutika Lodaya (CEO at Artificial Neurons.ai), Krishnan Sundarajan(Founder of India's First Metaverse App, Loka), and Pradeep Shekhar(Managing Director at Optiv Inc.) as the four speakers.
Mr Aditya Phadnis voiced his thoughts on how the Metaverse is still a new domain and its applications are only limited to our imagination. He conveyed that the industry's shift towards Metaverse would be incremental, and we could witness previously unimaginable events with time. He even cited an example of how the application of Metaverse in construction has enabled his company to lessen some previously unavoidable expenses.
Ms Krutika Lodaya communicated her views on how data science is the building block of the Metaverse. She told how the comfort of meeting individuals in virtual reality while remaining indoors facilitates safety and healthy communication between individuals. She sincerely expressed her views on how Metaverse could address some mental health concerns of the existing society.
Mr Krishnan Sundarajan charismatically narrated his expedition from being the co-founder of Zomato to being the founder of Loka. He expressed what encouraged him to develop a metaverse app targeting the Indian audience. He clarified how Metaverse had been a part of the world much earlier than we believed.
Mr Pradeep Sekar talked about the security risks associated with Metaverse and what we can accomplish from our end to ensure our safety. He described how the benefits and drawbacks of Metaverse would come to light for further conversation only after it becomes a new norm.