Guest Lecture on Soft Skills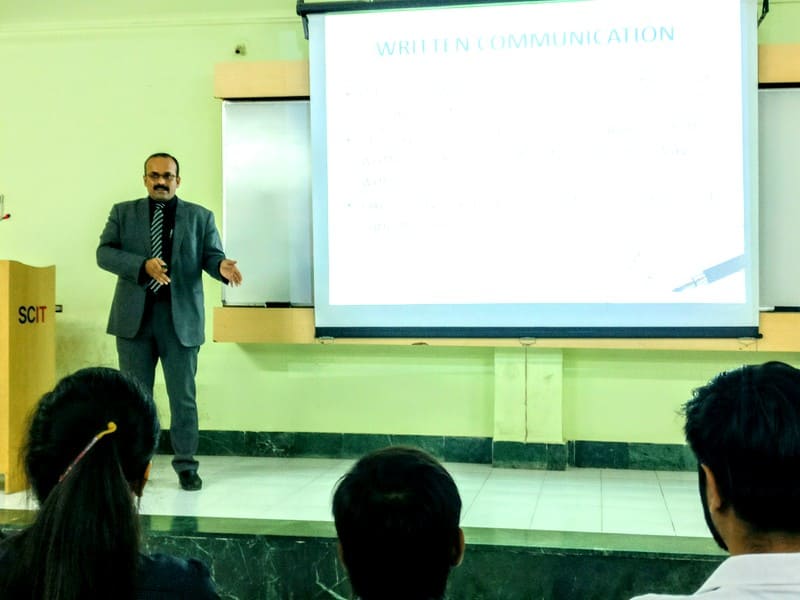 SCIT organized a guest lecture on "Importance of Soft Skills" for the first year students of ITBM and DSDA. Capt. Nitin Joshi (Retd.) proprietor of Wisdom Mind having lots of experience in the armed forces took an interactive session on soft skills as powerful means of communication. He explained that words conveyed 7 to 10 % of our thoughts, whereas body language takes the maximum space in communication. He also stressed the need for supplementing educational qualification with soft skills for a successful career.
Capt. Nitin Joshi also stressed the importance of thinking about the past and letting the bad phase go out of our lives and taught us the technique to overcome that. He also stressed the importance to analyze all the arguments from the first, second and third person's perspective to come out of all the anger and fights we have with others.
There was an activity conducted to help students to sit silently, think about the issue which left us with a bad memory and think about it. After some time, he asked the students to again think about the bad memory but with a smile on a face. This exercise was to help students overcome the anger or fear of the memory and just by putting a smile on the face, all the difficulties in life become minute.
The session ended with an interactive question and answer session where students were able to learn a lot about how the corporate world works and how to face the life challenges head-on.
By Shrita Karmokar