Child Labour: A Serious Social Issue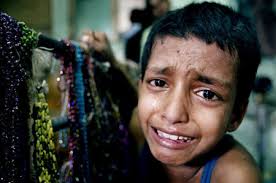 My exposure to Child Labour:
Everywhere in India, be it rural or urban area, there are children begging in the streets; even small children are cleaning the coaches of trains and the aisles of buses, asking for coins. I once needed help moving my scooter in the parking lot. It was late night and there weren't any people inside the parking area. I noticed a small boy (apparently a cleaner) and asked him for help. The boy said that he would assist me but asked for 10 rupees in return. This shocked me at first, but I paid him because I wanted to learn why he was begging. After we moved the bike, he explained that, during the day, he worked at a department store, earning 20 rupees for a six-hour workday. He received no food there and was beaten by his employer when he didn't work hard enough. As he was homeless, with no parents to support him, the boy stood in the busy intersection every day, before and after work, asking travellers for money so he could eat.
This boy is just one example of the over 12 million child labourers in India, according to the 2001 national census, who are exploited by industries, institutions, and landlords.
What is Child Labour?
Definition of Child Labour: Child labour is the practice of having children get engaged in economic activity, on part or full-time basis. The practice causes the childhood of the children to be ephemeral, and is harmful to their physical and mental development. The child labour problem is not unique to India; worldwide, about 217 million children work, many full-time. It is important to note that not all work done by children is considered "child labour."
The International Labour Organisation (ILO) states that child labour may be defined in a number of different ways, and a different definition yields a different estimate of child labour in India as well as other countries. According to ILO, children or adolescents who participate in work that does not affect their health and personal development or interfere with their schooling, is not child labour; rather it may generally be regarded as being something positive. These kinds of activities, suggests ILO, may contribute to children's developmentally, socially or morally dangerous and harmful to children, or work whose schedule interferes with their ability to attend regular school, or work that affects in any manner their ability to focus during school or experience healthy childhood.
UNICEF defines child labour differently. A child, suggests UNICEF, is involved in child labour activities if between 5 to 11 years of age, he or she did at least one hour of economic activity or at least 28 hours of domestic work in a week, and in case of children between 12 to 14 years of age, he or she did at least 14 hours of economic activity or at least 42 hours of economic activity and domestic work per week. UNICEF in another report suggests, "Children's work needs to be seen as happening along a continuum, with destructive or exploitative work at one end and beneficial work – promoting or enhancing children's development without interfering with their schooling, recreation and rest – at the other. And between these two poles are vast areas of work that need not negatively affect a child's development."
Child Labour in India and the CAUSES:
India is sadly the home to the largest number of child labourers in the world. The census found an increase in the number of child labourers from 11.28 million in 1991 to 12.59 million in 2001. M.V. Foundation in Andhra Pradesh found nearly 400,000 children, mostly girls between seven and 14 years of age, toiling for 14-16 hours a day in cottonseed production across the country of which 90% are employed in Andhra Pradesh. 40% of the labour in a precious stone cutting sector is children. NGOs have discovered the use of child labourers in mining industry in Bellary District in Karnataka in spite of a harsh ban on the same. In urban areas there is a high employment of children in the zari and embroidery industry.
Poverty, lack of good schools and growth of informal economy are considered as the important causes of child labour in India. The increasing gap between the rich and the poor, privatization of basic services and the neo-liberal economic policies are causes major sections of the population out of employment and without basic needs. This adversely affects children more than any other group. Entry of multi-national corporations into industry without proper mechanisms to hold them accountable has lead to the use of child labour. Lack of quality universal education has also contributed to children dropping out of school and entering the labour force. A major concern is that the actual number of child labourers goes un-detected. Laws that are meant to protect children from hazardous labour are ineffective and not implemented correctly.
A growing phenomenon is using children as domestic workers in urban areas. The conditions in which children work is completely unregulated and they are often made to work without food, and very low wages, resembling situations of slavery. There are cases of physical, sexual and emotional abuse of child domestic workers. The argument for domestic work is often that families have placed their children in these homes for care and employment. There has been a recent notification by the Ministry of Labour making child domestic work as well as employment of children in dhabas, tea stalls and restaurants "hazardous" occupations.
According to HAQ: Centre for child rights, child labour is highest among Schedule tribes, Muslims, schedule castes and OBC children. The persistence of child labour is due to the inefficiency of the law, administrative system and because it benefits employers who can reduce general wage levels. HAQ argues that distinguishing between hazardous and non hazardous employment is counter-productive to the elimination of child labour. Various growing concerns have pushed children out of school and into employment such as forced displacement due to development projects, Special Economic Zones; loss of jobs of parents in a slowdown, farmers' suicide; armed conflict and high costs of health care.
Laws against Child Labour in India:
Child labour in India is addressed by the Child Labour Act, 1986 and National Child Labour Project.  India has legislation against child labour since 1986 which instead of preventing child labour, allows work by children in non-hazardous industry. Social activist Hemant Goswami had moved the courts against this particular provision and for the failure of the Government to prevent violation of child rights and widespread child labour, his efforts against exploitation of children has forced the government to constitute Commission for Child Right in the State of Harayana, Punjab and Chandigarh. On 9 April 2013, the Punjab and Haryana High Court gave landmark order on the writ-petition (PIL CWP 2693 of 2010) moved by Hemant Goswami.
The court, accepted all the contentions and suggestions put forward by Hemant Goswami (who argued the case in-person) and directed that;
There shall be total ban on the employment of children up to the age of 14 years, be it hazardous or non-hazardous industries.
There shall be no forced labour even for children between the age of 14 years to 18 years; and whenever a child above the age of 14 years is forced to work, it has to be treated as an offence under Section 374 IPC and it is to be dealt with sternly.
When any matter is brought to the notice of the State Commission involving violation of child rights even where a child above the age of 14 year is employed, the State Commission under the CPCR Act will have the jurisdiction to deal with the same and pass necessary directions.
The violators have to be dealt with effectively and in a speedy manner. Therefore, wherever violations are found, cases under the provisions of Part-IV of the Child Labour Prohibition Act have to be registered without delay in each and every case.
Wherever the officers fail or neglect to take effective action immediately, apart from taking necessary disciplinary action, action can also be taken, in appropriate cases, under Section 166 IPC against such officers.
There is also a need for rehabilitation of such children in the society. (Scheme suggested by Hemant Goswami was adopted by the Court, with the following main points; (a) Moving out the child from the exploitative environment (b) Ensuring Education (c) Ensuring Food/Meals/Clothes/ Necessities (D) Penalty/Compensation should be for the benefit of the Child (e) Regular Monitoring)
The Chairperson of "State Commissions for Protection of Child Rights" should be a person who has been Judge of the High Court and the process of selection of the other six members of the "State Commissions for Protection of Child Rights" should entail issuance of public advertisement for inviting applications, interviewing eligible candidates and recommending a penal of names of suitable persons.
States of Punjab and Haryana as well as U.T., Chandigarh shall also ensure that the State Commissions become fully functional by appointing Chairpersons and Members.
Children's Courts with specialised infrastructure be created.
The order is considered a landmark in "Child Right Protection" in India, as the court declared many existing provisions of the 1986 Indian Child Labour legislation as illegal and against the Constitution of India.
Measures that can be taken:
Child labour is a global practice and has many negative end results. Therefore, it is essential to break this vicious cycle and enable society to transpire healthy and responsible citizens and future leaders. A multidisciplinary approach is required to combat this issue in the form of the following recommendations:
Health care providers particularly community health nurses (CHNs) in collaboration with other stakeholders, could introduce and create linkages between the community people and microfinance schemes to strengthen the capacity of the families to generate income, rather than choosing the option of child labour.
The nursing and medical curriculum should also integrate this crucial component in courses such as advanced concepts in community health nursing. To raise awareness, community health nurses and other health care providers should write about and publicize the issue of protection of children's rights, and influence the media to portray various aspects of child labour, as television and media are an essential part of the society's life today. Moreover, nurses and other health care providers can undertake further research on the health impact of child labour.
Seminars and conferences should be held for employers, and parents of children involved in child labour. If child labour is unavoidable then facilitation needs to be provided in finding new ways of educating children and young people, who are working, other than the traditional schools.
Conclusion:
The problem of child labour in the third world countries is not only financial but is also a socio-economic problem which can be addressed by adopting certain measures for improving the economic conditions of the community and enabling it to provide education and leisure time to the children. At the same time, due diligence is required in effective implementation of child labour legislation. Perhaps abrupt eradication or demolishing child labour may not be the solution of a country like Pakistan, where poverty is the root cause of many problems because by doing so these children may end up in other more harmful professions such as drug trafficking, and sex workers; to earn their livelihood. However, provision of education along with work would help these children so that they can be equipped with necessary skills and in future they would be better able to work in a conducive environment and raise their family in a healthy milieu. A multidisciplinary approach is needed to work on the quality of a working child, and therefore, as health care personnel, we should begin to reflect and work collectively to combat this issue.
Liked this article? Please share:
[facebook]  [tweet]
Sudeeksha Verma
(MBA-ITBM 2013-15)