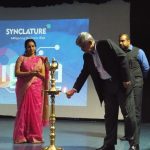 The most awaited event of SCIT, 'Enigma-2017' organized by Team Matrix was hosted on 2nd September, 2017 in association with Data Security Council of India (DSCI) and sponsored by Synclature. The chief guest for the event was Mr. Sanjay Deshpande. The event started with Saraswati Vandana by Dr. Arvind Tilak and Mr. Debashish Pramanik and Director of SCIT Dr. Dhanya Pramod.
Enigma is an event which aims to nurture the talent of students in cyber security and also give guidelines to the upcoming generation resulting in the development of the country.
The event started off with a speech by Dr. Arvind Tilak who is the CEO of Ascent Intellimation who emphasized on investing in the next generation. He also said there is shortage of cyber security officials and his vision is to make Pune a talent hub where companies would want to set up security companies.
The chief guest Dr. Sanjay Deshpande Managing Partner and Chief Scientist, FortyTwo Labs LLP, Scientific Advisor & Mentor: Hi-Tech & Cyber Security Startups also gave a speech. He too encouraged the students to become entrepreneurs and job creators instead of job seekers.  He also shared his life experiences and struggles of being an entrepreneur and told the students to never get discouraged by any rejection but instead take it as a learning experience to grow further.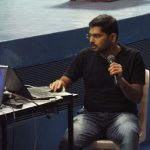 The next event was Security Posture Assessment by Mr. Akshay Joshi who showed a demo on VAPT (Vulnerability Assessment and Penetration Testing). He explained that the VAPT lifecycle consists of initial reconnaissance, finding the vulnerability, exploit, escalating privileges and root. He showed that just by knowing the IP of the system, how to get to the root of the targeted system. He also showed how to do SQL injection and spawning a terminal with the help of Kali system.
The next part of the event was a panel discussion headed by Mr. Sanjay Kanvinde and the panelist were Mr. Akshay Rege, Mr. Ashok Pawar, Mr. Debashish Pramanik and Mr. Sameer Anja who are all experts in the cyber security domain. The aim of the panel discussion was to answer and solve all the queries faced by students and how to go about choosing the security domain as a career.
After the break another brainstorming session awaited for the students after the lunch break. Mr. Rohit Shrivastava, enlightened the audience with his pool of knowledge on DoS (Denial of Service Attacks). He explicated the core meaning of DOS, that is, when an attack is hidden inside another attack. Various ways of DOS attacks were introduced by Mr. Shrivastava. Choking up the bandwidth and request floods being a few of them.
Next in the store for audience, was a demonstration by Mr.  Pravin Thokal. Another concept which came up was that of Remote Access Trojans, abbreviated as RAT. Mr. Thokal demonstrated, how an actual RAT is induced into your system.
In the session on Block-chain, Mr. Joel Divekar enlightened the audience that a block chain is nothing but a database or a secured ledger. A block, as explained by Mr Divekar, is a place where multiple transactions are stored at a particular point of time. Mr.Divekar, also introduced the concept of bitcoin and bitcoin mining.
Approaching towards the end of the event, the students were lucky enough to be a part of ACP Mohite's session. Mr. Mohite took a session to spread awareness among the students regarding the urgency and criticality of securing one's information. Mr. Mohite, himself, has witnessed serious cybercrime incidents and handled them elegantly. He spoke about few major cases which he handled and made the students understand the criticality of cyber security.
After such an astounding session, there was fun waiting for the audience. A Security Quiz was arranged by Team Matrix, in which they distributed goodies to the participating students. After goodies, the grand event culminated with a vote of thanks by Mr. Debashish Pramanik, and a promise of being in SCIT for next year further. The day of great vigor and enthusiasm has made its way into SCIT's hall of fame!
Compiled by Vidhi Saxena & Shrita Karmokar
451 Total Views
0 Views Today